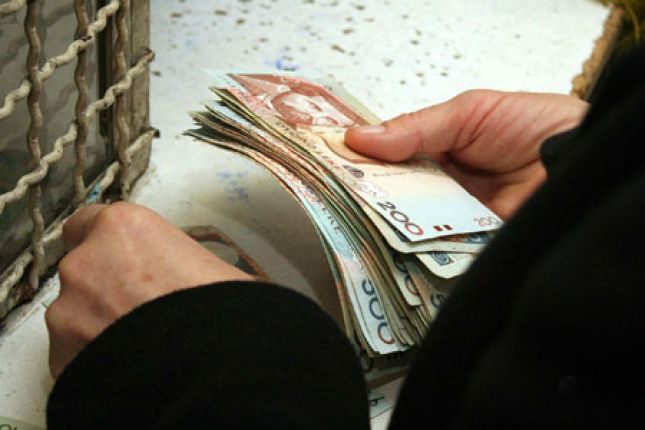 IBNA Analysis/State budget and new tax package were voted by the left wing majority without the votes of the opposition, they come into effect on January 1, 2014
Tirana, December 30, 2013/ Balkan Independent News Agency
By Edison Kurani
In Albania, the majority voted in paraliement without the votes of the opposition, the state budget for 2014 and the new tax package. An important change consists on the progressive tax up to 23% which replaces flat tax of 10% which has been applied up until now.
Minister of Finance, Shkelqim Cani is optimistic that the economic situation in the country during 2014, through this budget that he considers to be realistic, will improve and Albania will make faster progress. Mr. Cani says that economic growth is forecasted to be from 1.2-1.3% to 2-2.1%.
Minister of Finance says that this is the biggest budget ever drafted so far with 455 billion ALL as opposed to 405 billion ALL last year.
"This budget, said he, is transforming, it replaces an old model with a new one with the principle who earns more pays more", says Mr. Cani.
2014 budget is voted. What do the citizens benefit?
Budget for 2014 is:
Revenues                                             363 966  million ALL;
Expenses                                             455 566  million ALL;
Deficit                                                 91 600 million ALL
The budget is comprised of the state budget, local government budget and special funds: social securities, health insurance and compensation of former land owners.
Minister of Finance, Shkelqim Cani says that 2014 state budget secures macro-economic and fiscal stability and helps the country to come out of the deep crisis.
But what are the benefits of the public and business from the 2014 budget?
The government says that it will pay arrears to the business sector for public works and services, and also refund of VAT and income tax of 39 billion ALL.
Experts say that if this happens, then there will be more cash flow and investments, which lead to more lending and employment in the future.
On the other hand, farmers will benefit subsidies in line with the agricultural production that is carried out.
Debt and loans, serious problems
Speaking on the economic situation in the country, Cani says that public debt, the official one is nearly 70% and in absolute value, it has doubled compared to 5 years ago.
"The concealed debt, that has never been declared, that which has not been revealed to the people, opposition and parliament, has been proven to be 5% of GDP", says the minister. Canoi warns that verification of other debts will continue during 2014.
Meanwhile, problematic loans in Albania, compared to 2005, are 10 times more.
Structure of profit tax in Albania
Structure of profit tax in Albania is similar to that of many other countries called Corporate Income Tax.
The main difference with international practice consists on the fact that subjectivity to profit tax in Albania depends on the annual turnover of the business and not on the legal form of the business activity.
From January 1, 2008, this tax has been 10%. The policy of that time reflected the tendency of these countries to reduce tax burden on businesses with the aim of attracting foreign investments and to reduce tax evasion.
Changes that the new tax package brings
Some of the measures that will be undertaken in the framework of the new tax package are:
Profit tax on personal employment incomes changes from flat tax of 10% to progressive tax for salaries over 30 thousand ALL (250 Euros) a month.
Through the new taxation, 56% of employees will continue not to pay tax on personal incomes, because they have declared a minimum salary of 250 Euros.
Meanwhile, 41% of employees who are paid up to 130 thousand ALL (950 Euros) will pay 13% of the amount over 30 thousand All.
Those who are paid over 130 thousand All will pay 13 thousand ALL+23% of the amount over 130 thousand ALL. According to this formula, the payment that defines the growing threshold of the effective tax over 10% is 130 thousand ALL per month.
New taxes for the business too
As of January 1, 2014, tax on business profits changes too.
Small business with annual turnover up to 8 million ALL or 60 thousand Euros will pay 7.5% on their personal incomes, while large businesses will pay 15% tax on their annual taxable profit.
Excise on cigarettes grows significantly
Excise on cigarettes increases up to 40% for the next 4 years.
Increase on cigarette excise is one of the most applicable policies to reduce consumption of tobbacco by the population, increasing the price on its sale. Albania consumes around 4 thousand tons of cigarettes.
Increase of excise on such products is accompanied by the increase of contraband, a phenomenon which always accompanies such products.
In an effort to stop contraband, the government has decided to increase excise on cigarettes in a progressive way until the EU standard is reached:
According to EU directive, the minimum level of the excise on cigarettes must be 57% of the retail sale price.
In Albania, the current percentage is 34. Albania's excise level can be compared with the countries of the region.
Thus, Kosovo taxes cigarettes 70 ALL/pack, Montenegro taxes it 49 ALL/pack, FYR Macedonia by 76 ALL/pack, while Serbia taxes it by 92 ALL/pack.
There has also been an increase proposed for rolled up tobbacco from 1500 ALL/kg to 3000 ALL/kg, thus double the excise.
It's been years that tax on rolled up tobbacco has not changed in Albania. This is a product with a growing consumption trend, both imported and domestically produced. Now, the trade of rolled up tobbacco is more controllable, following the introduction of duty stamp. On the other hand, there's a very big difference (unjustified) between excise on this product and excise on cigarettes. The increase on the excise on rolled up tobbaco is 3000 ALL per kg (from 1500 ALL currently) and an annual increase of 700 ALL for the three years to come. The effect on incomes is estimated to be around 200 million ALL for 2014. Both for excise on cigarettes and rolled up tobbaco, the calendar of the increase of excise has been set to a period of 4 years.
The positive effect on the revenues from this increase on excise is estimated to be around 200 million ALL.
Increase of excise for alcoholic beverages and coffee too
Government has decided to increase excise by 30% on all alcoholic beverages. Alcoholic beverages include wine and beer. Tax increases on coffee too.
Fuel becomes more expensive
Road tax is a tax which has an environmental nature. Government has decided to increase it as of January 1. This is expected to bring an increase of 6.6% on petrol and gasoline.
Currently, price of gasoline and petrol is 185-200 ALL. This is a price higher than in neighboring Montenegro, Kosovo, FYR Macedonia.
VAT on medication is lifted
Patients will benefit from the lifting of 10% VAT on medications and health services. Minister of Health, Ilir Beqaj says that this measure will be accompanied by a complete reform of the health system in our country. Current majority had promised that if it came into power, the entire health system in Albania would be free for all residents.
Other financial measures
The limit on cash purchases is 150 thousand ALL (1100 Euros) as opposed to the current level of 300 thousand ALL.
Deadline on the refund of VAT and compensation of tax obligations is doubled from 30 days to 60 days.
Expectations are high. A "1 million USD" question
When Edi Rama defeated Sali Berisha in the elections, it was clear that the expectations of Albanian people were high. The left wing was voted by 1 million Albanians and parliament is entirely controlled by the new government.
Four months have gone by since this government took office. Citizens say that they have high hopes, but they say that tangible achievements were almost zero for this period.
With the voting of the new budget and tax package, not only the government, but the citizens too hope that things will differ.
But how effective is this change? Poor people will certainly receive something  more. The middle class will become poorer because it will pay more taxes.
Many people say that this tax package destroys middle class reducing it to a poor class.
On the other hand, medium seized and large businesses will pay more taxes to the state.
The consequence is clear and based on a constant experience: The consequences will be paid by employers and consumers of every social class. Directly or indirectly, their economic situation may become more difficult, because prices are expected to increase and people will encounter more difficulties to secure and preserve their jobs.
The question is: Must such drastic measures be taken? The answer to this 1 million dollar question is difficult. The crisis is there and the state has no better solution but to charge taxpayers more. /ibna/