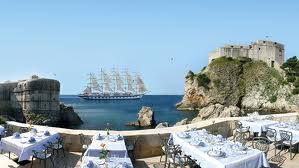 By Natasa Radic – Zagreb
According to the results of the monitoring in restaurants in Croatia published by the Tax Administration, from the beginning of the fiscalization,  inspectors conducted 23,324 inspections at various restaurants and in 11 percent of them, that is in 2606 registered facilities they found irregularities.
In the most drastic cases the sentence was the one of temporary closure, and so in the Zagreb area there were 154 restaurants sealed. In Split, 54 cafes were closed and in Dubrovnik 53. The least temporary closures was recorded in Karlovac, only seven.
Tax inspectors have also recently been frequent guests of the news stories in the past weeksc. For some of them it could be said that they have taken their jobs really seriously, and it has been reported in several cases of their unethical and illegal behavior that was reported by the citizens, and some of them recorded by surveillance cameras. For instance, in some restaurants they pretended to be customers, but did not wait for them to issue an invoice, they would immediately leave the building and return in a few minutes with the printed fine, because they did not get a bill.
In Zadar, due to an surplus in cash of 17 euros the entire cafe was sealed in the city center, and the owner received a fine of 3,000 euros.
Several days ago, tax inspectors have sealed and cafe in Rijeka, due to 3 euros cash difference.
Croatian chamber of commerce has warned about these cases, stating that it was necessary to act preventively with previous warnings and education, instead of closing facilities in high season. According to information from the field, the minor offenses get drastic penalties for small caterers and retailers. They also suggested that the reasonable allowable tolerance surplus should be determined to prevent some bizarre sanctions. The Tax Administration has not yet responded.