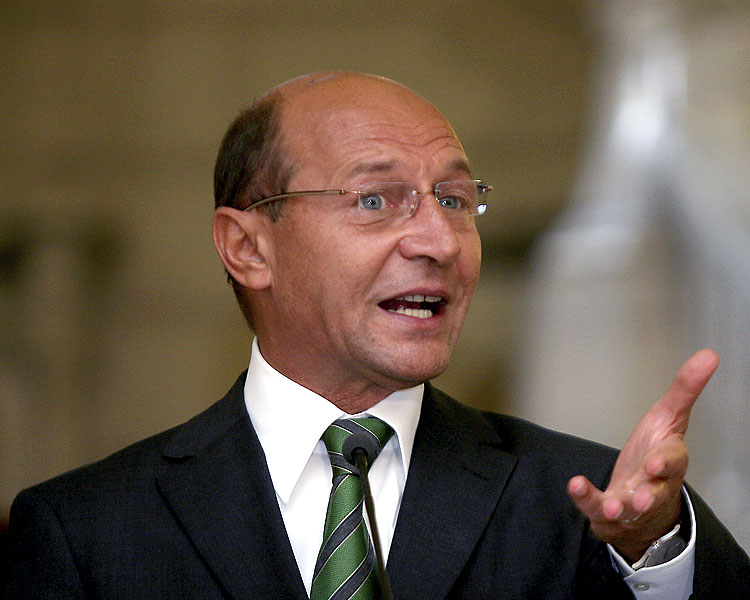 By Daniel Stroe – Bucharest
Romanian President Traian Basescu confirmed in a press conference last night that the Government's revenue collection is short of 543 million Euros over the six months of the year, making a case against PM Victor Ponta's decision to cut back social insurance contribution (CAS) which Basescu warns it will harm the economy.
"Of course, the prime-minister doesn't understand the economy and compares various years. This year, over the first six months, the collection deficit is about 2.4 billion lei (543 million Euros), so the prime-minister needs to make a negative budgetary overhaul", Basescu said last night.
In his statement last night, Basescu said he had returned a draft law on the CAS cut back to the Parliament because he wasn't convinced the government had found sources of financing to cover the assessed 1 billion Euros gap the measure would create in the state budget. Basescu also met Ponta and his Finance minister a week ago in order to discuss financial means to cover this gap, but the latter were not able to present solid arguments in favor of the CAS cut back and alternative sources to compensate the loss of about 1 billion Euros.
In a separate press conference yesterday, PM Ponta took a French leave after journalists started asking him about the poor revenue collection. "I am sorry, I wanted to answer you but it looks like we are going into polemics" Ponta said as he left the room.
"This is not a personal dispute with the Government. I wish I could have promulgated a law to reduce taxation before elections. For me it is a matter of conscience though. The population will have to bear the consequences in 2015 and the Government doesn't have viable solutions" Basescu also argued. If the CAS cut back law goes into effect, most probably taxes will be raised next year, the President also warned.
In return, Ponta said the bill will be again voted by the Parliament where his ruling coalition has a majority of votes and this time Basescu will either have to accept the law or challenge it at the Constitutional Court. He accused Basescu that by rejecting the bill he undermines governmental efforts to help small and medium enterprises which Ponta says are the main beneficiaries of CAS cut back.
Basescu also warned the Government cut about 22-25 per cent of investment funds over the first six months which has translated in a rise in unemployment. The dispute is likely to continue as Basescu aims at Ponta's economic clumsiness and appeal for populist measures in an electoral year in which the prime-minister seeks to succeed Basescu in the top job.