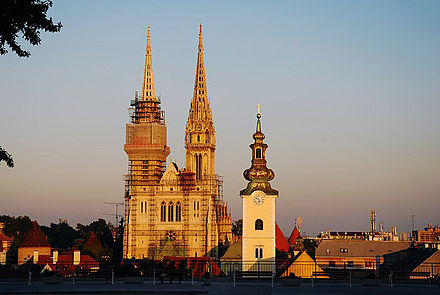 By Natasa Radic – Zagreb
Citizens' Association for the Protection of Human Rights "David" began to collect signatures on a streets of Zagrb for a petition calling for a fully taxation of the Church.
The priests – even though they receive a salary as employees – do not pay taxes because of the agreement between the Holy See and the Republic of Croatia on economic issues concluded in 1998. Their salaries are paid from the money collected from the paid holy masses, funerals, baptisms and alms, and the Diocese pays the minimum required amount for the pension and health insurance. The basic salary is 4000 HRK (550 euros) for the priests, and the premiums are calculated and added, according to the length of service and responsibilities.
The Catholic Church is funded directly from the state budget. Since under the Treaty Croatia "admits the general social benefits of the Church's work and the services for the citizens in the cultural, educational, social and ethical field"  the Republic of Croatia, "in order for the Church to continue its work and to promote the common good," allows a monthly budget amount which corresponds to two average gross earnings multiplied by the number of parishes and the total amoung is being given to the Catholic Church in Croatia. Last year the Church received about 245 million kunas (30 million euros), while the previous year the amount was more than 300 million kunas, because the contract stipulated that the amount would be 20 percent higher during the first ten years of payments in order to resolve the issue of pensions of the senior clergy, as during the socialism times they could not pay for their pension funds.
Daily Jutarnji list published an article in which an unnamed source from the church circles said that the state budget per year would be richer for thirty million kunas (4 million euros), if the Church had paid all taxes and levies.
-Money received from the budget should be shared by the Croatian Bishops' Conference so that one-third goes to the repair and construction of church buildings, one third of Caritas, and one for the poor parishes. However, the distribution of that money has never been transparent to the end – said the source of Jutarnji list.