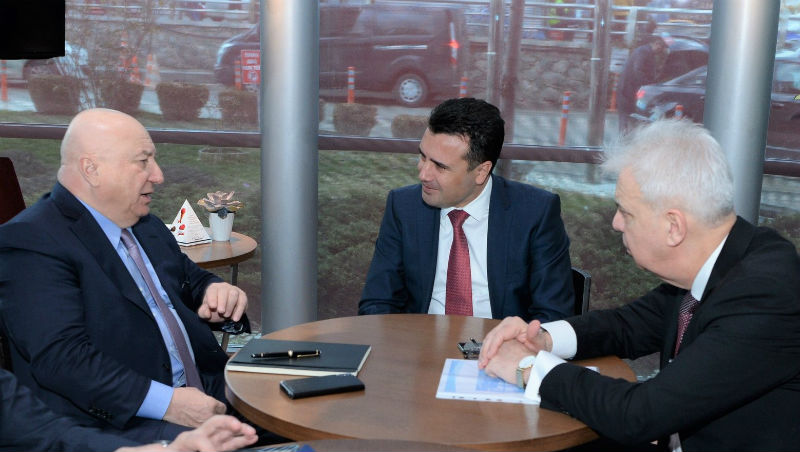 The priorities for the TAV investment worth €45 million in fYRO Macedonia in accordance with the Macedonian Airports concession agreement were identified at Monday's meeting between PM Zoran Zaev and representatives of the TAV Airports CEO Mustafa Sani Sener, deputy CEO Serkan Kaptan and TAV fYRO Macedonia General Manager Alp Er Tunga Ersoy.
The funds will be invested in important projects for the citizens of our country, government's press service told.
The investments will be directed in kindergartens, schools, drainage and sewer networks, local and regional roads, what is really needed for our citizens. I am also very pleased that the citizens of the Republic of Macedonia will benefit directly from this investment, Zaev said at the meeting, who pays a visit to Turkey.
TAV representatives said that there is an agreement and will be happy to implement it, while expressing appreciation for the good cooperation with the Prime Minister Zaev and the new Government and support in the efforts for development of the country.
Taking into consideration the fact that we started the visit to Turkey last night, immediately after the arrival, with dinner with Turkish businessmen, we show that we are strongly committed to intensify the good economic cooperation between the two countries, Zaev said at the meeting.
fYRO Macedonian delegation led by PM Zaev and TAV representatives also visited the Mausoleum of Mustafa Kemal Ataturk, laid wreaths and signed the official memorial book.
During the day, Zaev is to meet Turkish Prime Minister Binali Yildirim, Speaker of the Turkish Grand National Assembly Ismail Kahraman and President Recep Tayyip Erdogan.
Zaev kicked off late Sunday his official visit to Turkey with an address at the meeting organised by the Union of Chambers and Commodity Exchanges of Turkey (TOBB).
PM Zaev is accompanied by Minister for Foreign Investments Adnan Kahil, MPs Enes Ibrahimi and Jusuf Hasan and State Secretary of the Ministry of Foreign Affairs Viktor Dimovski./IBNA