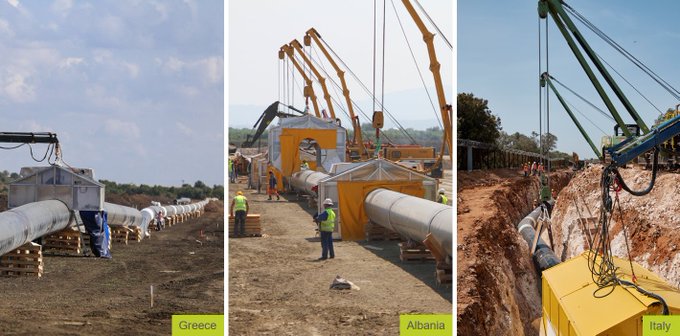 The Trans Adriatic Pipeline gas pipeline's land section in Greece, Albania and Italy has been completed by 99%, according to a statement made by the joint venture in charge of the project.
The welds, as noted, are currently undergoing automatic testing, to ensure they meet the national and international environmental and safety standards.
TAP pipeline will carry gas from the Caspian region all the way to Europe.
Starting at the Greek-Turkish border, where it will be linked to the Trans Anatolian Pipeline (TANAP), TAP pipeline will cross northern Greece, Albania and the Adriatic Sea to reach southern Italy, where it will connect to the Italian natural gas transmission network headed to Europe.
The Southern Gas Corridor is one of the most complex natural gas pipeline systems ever built.
With a length of over 4,000 km, it will pass through seven countries, with more than a dozen leading companies getting involved in its construction.
TAP pipeline's shareholder composition includes BP (20%), SOCAR (20%), Snam (20%), Fluxys (19%), Enagás (16%) and Axpo (5%)./ibna