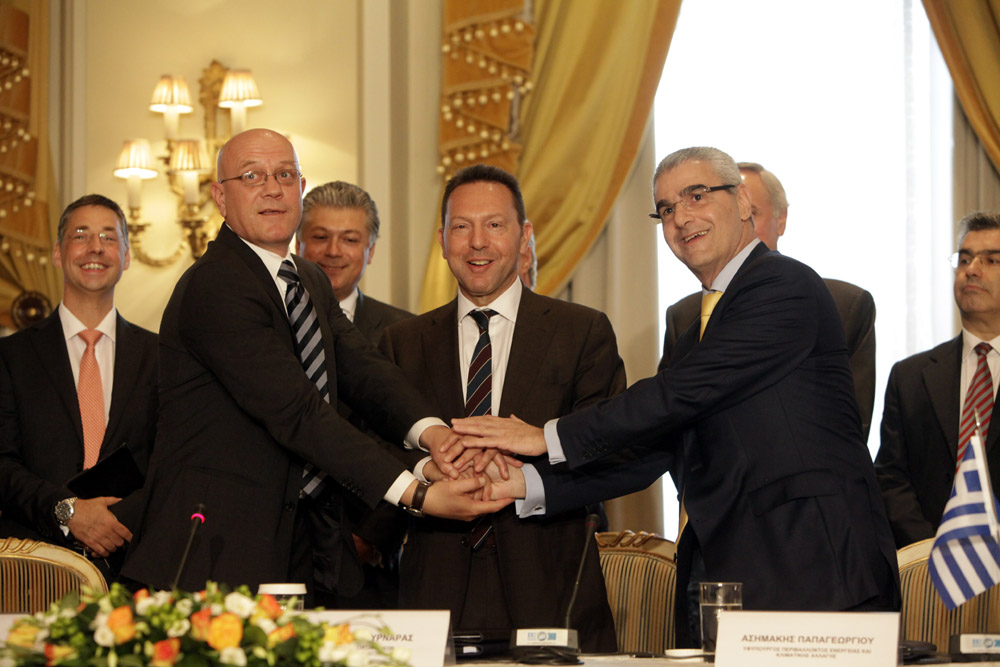 By Lefteris Yallouros – Athens
Within hours of being sworn in, Greece's new government has welcomed a piece of good news that will give the economy a much needed boost as Azerbaijan appears to have chosen the Trans Adriatic Pipeline (TAP) for transporting natural gas to Western Europe via Greece over rival Nabucco West.
The decision was reportedly delivered to Prime Minister Antonis Samaras in Athens on Wednesday by representatives of British Petroleum in Shah Deniz and the Azeri state energy company Socar.
"The Nabucco West project was not selected by the consortium," OMV – the lead partner in Nabucco West – said in a statement.
A final decision is expected to be announced officially on Friday.
TAP, whose shareholders are Switzerland's EGL (42.5%), Norway's Statoil (42.5%) and Germany's E.ON Ruhrgas (15%), would take gas from the border with Turkey via Greece and Albania to Italy.
Greece's government expects investments of 1.5 billion euros stemming from the pipeline as well as the direct creation of 2,000 jobs, and a further 10,000 indirectly. Over the course of its operation, TAP is expected to rake in 18 billion euros of added value to Greece's economy.
Meanwhile, in the short-term, Greece's government has only problems to deal with. Public Administration Reform Minister, Kyriacos Mitsotakis, hinted on Wednesday that he is to request more time from the troika in order to meet the target of letting off 15,000 public sector employees by the end of 2014.
Reports suggest the country's lenders are not open to such an option or any others that don't adhere to the adjustment program.
The government is already pressing the EU and IMF to repeal tax hikes on restaurants and fuel. It is also resisting any new tax rises or public sector wage cuts to offset a privatization revenue shortfall after failing to sell state gas firm DEPA.
Analysts don't expect a full – fledged attack on the troika by the new government or any real concessions by the former either. Both parties are expected to patch things up in order to avoid new measures being implemented before September. After that, however, Athens and it's the troika will have to go over fiscal targets for 2015 and 2016 – when Greece faces a 4 billion euro revenue gap.
That is the real stress test Greece's new government will have to prepare for sooner rather than later.