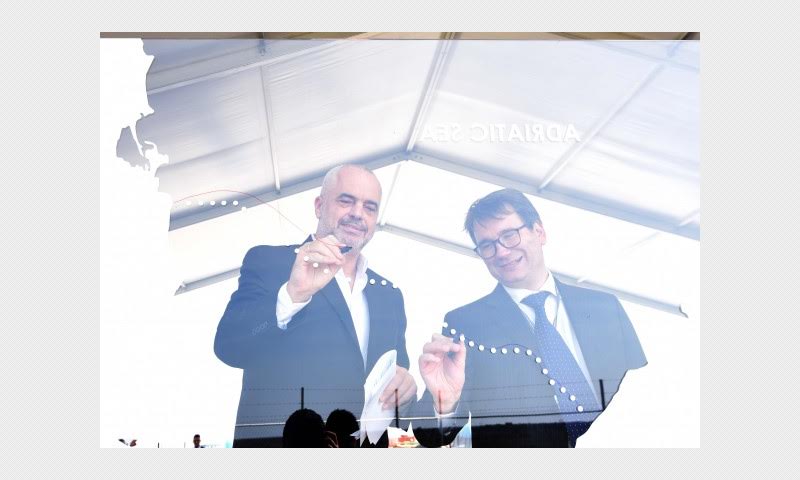 In 2019 it is estimated that the submarine, under the Adriatic, launch of the TAP pipeline will be completed. In particular, construction works of the 105 km of sub-sea section of the TAP gas pipeline between Albania and Italy started on October 19.
Albania's Prime Minister, Edi Rama and the Minister for Infrastructure and Energy of the country, Damian Gjiknuri spoke of the benefits of this project for Albania, as the TAP pipeline is one of the largest direct foreign investments in the country, and for the communities along the TAP's route.
"This is another key milestone taking one more step towards completion of the TAP project and the start of operations in 2020″, said TAP Managing Director Luca Schieppati. "Being one of the most strategic and mature infrastructure projects currently implemented in Europe, TAP will bring a new source of gas to homes and business and boost security of energy supply in the region. Overall, our project is more than 80% complete and we are proud that works are being undertaken in line with the highest standards and industry best practice."
As for TAP Project Director John Haynes, he has added that, "This is the first time for engineering works of such a scale and magnitude to be carried out in Albania. Steel pipes will be welded together on board state-of-the-art vessels, which will be located at sea. These welds are then tested, and the pipeline is lowered down onto the seabed, reaching depths of more than 810m beneath sea level. Approximately 9,000 pipes with a 36-inch diameter will be used, weighing approximately 100,000 tonnes in total."
For the construction needs there will be used about 10 vessels, 2 for the installation of the pipeline and the other special-purpose vessels for dredging, pipeline supply, light constructions, anchoring, towing and measurements.
The semi-submerged vessel will be used for the installation of the pipeline at great depths, while a placement barge will be used in shallow coastal areas.
The TAP will transport natural gas from Azerbaijan's giant Shah Deniz II deposit to Europe. The length of about 878 km of pipeline will be connected to the Trans Anatolian Pipeline (TANAP) pipeline in Kipi, on the Greek-Turkish border, and will cross Greece, Albania and the Adriatic Sea before landing in southern Italy.
TAP's route can facilitate gas supplies to several Southeast European countries, including Bulgaria, Bosnia and Herzegovina, Montenegro and Croatia.
BAP (20%), SOCAR (20%), Snam (20%), Fluxys (19%), Enagás (16%) and Axpo (5%) participate in the share capital of TAP…. / IBNA