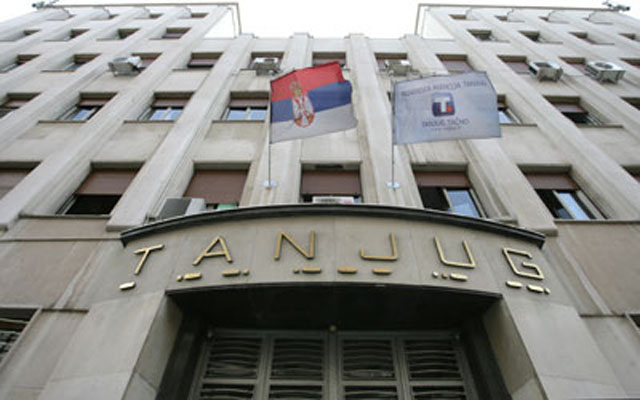 Belgrade, November 5, 2015/Independent Balkan News Agency
By Milos Mitrovic
Tanjug, Serbian leading news agency, has seized to exist on October 31, Ministry for Culture and Information confirmed on Wednesday. Tanjug's last news will be released today, on the 72 anniversary of agency's foundation. A ministry official explained that attempts for privatizing Tanjug have failed, as well as the distribution of the shares to the current and former employees.
Prime Minister AleksandarVucic said that he was opposed to shutting down Tanjug and blamed Minister Ivan Tasovac and State Secretary Sasa Mirkovic for the agency's "expiration".
"This news agency had its law which has expired on October 31 and therefore Tanjug seized to exist. Whether there was time to announce the tender to privatize it by transferring capital to the employees… that's a question for Privatization Agency and Tanjug management", Mirkovic told Politika daily.
Tanjug's cancellation was a discriminatory act while the employees have been deprived from their rights, Nino Brajovic, Secretary General of the Journalists's Association of Serbia said to Politika.
At the media conference, premier Vucic said he was against the shutting down of Tanjug, expressing his "disappointment". "But you and Sasa Mirkovic have convincing me that this was important, needed and on the course of the reforms", Vucic said referring to Minister Ivan Tasovac.
"You have asked for yourself to not to go to Sarajevo (on Wednesday, at the joint session of governments of Serbia and Bosnia) in order to stay here to defend and explain the decision. Last night I followed the news but I didn't see you anywhere. All that I heard was inarticulate explanation by Sasa Mirkovic", Vucic told Tasovac.
"Though I was opposed to Tanjug's shutting down and you Tasovac, you were in favour of it… you didn't take the burden but burdened me instead, as usual", Vucic said.