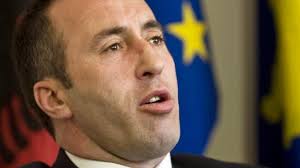 Pristina, March 28, 2014/Independent Balkan News Agency
By Elton Tota
Former prime minister of Kosovo and leader of the Alliance for the Future of Kosovo (AAK), Ramush Haradinaj declared today that there's been a lot of abuse with the process of talks between Kosovo and Serbia and that they must be suspended right away, reports IBNA's correspondent.
"There's no point for any more talks. They must be immediately suspended because the agreements reached in this process of talks have not been implemented in practice. Instead of implementing these talks, leaders continue to meet in Brussels. This is why there's no point on continuing the talks. If such abuses continue, then we cannot consider them talks, but just a repetition of talks which are not producing any results in the life of the people", said Haradinaj.
Haradinaj launched a new idea, for the talks between Kosovo and Serbia to be held at a higher level, in the European Commission enlargement department.
For these kinds of talks, Kosovo must be prepared by engaging experts to present Kosovo's case as good as possible there.
"Serbia has accredited 300 experts in Brussels, which are paid by Belgrade, in order to promote their project and in order to be integrated in the European Union as soon as possible. Meanwhile, we are behind in this process. We only have two or three people who lobby to accelerate Kosovo's integration in the Union", added he.
Haradinaj stressed that at the beginning, he has backed talks hoping that they would improve the situation and the consolidation of the state of Kosovo, but later on, he saw that this was not a serious process.
"It's true that I have backed the talks, because I believe that we have many things that are not going well in Kosovo, starting from the failure to have control over the entire territory. This situation was exploited by all of those who are skeptic on Kosovo and it's an obstacle for the development of our state in all domains. I have believed that talks are a good opportunity to overcome these problems. Up until April 19, these talks were serious, but afterwards, there's been a lot of abuse with this process", said Haradinaj.
Leader of AAK said that the state of Kosovo is facing weak governance with many negative consequences for the citizens.
He declared that in the next elections, he's ready to collaborate with all opposition parties, excluding prime minister Thaci's party, which according to him, bust be in opposition in order to reflect on the mistakes which have been made.
Haradinaj invited all citizens not to be indifferent toward political developments in Kosovo.
"I don't understand the indifference of the citizens of Kosovo. I'm surprised how they don't participate in the voting in order to change the current government although they face many problems. They must vote, because we're not in Holland, where unemployment is 4% or in any other country of the European Union where things go well", said Haradinaj. /ibna/