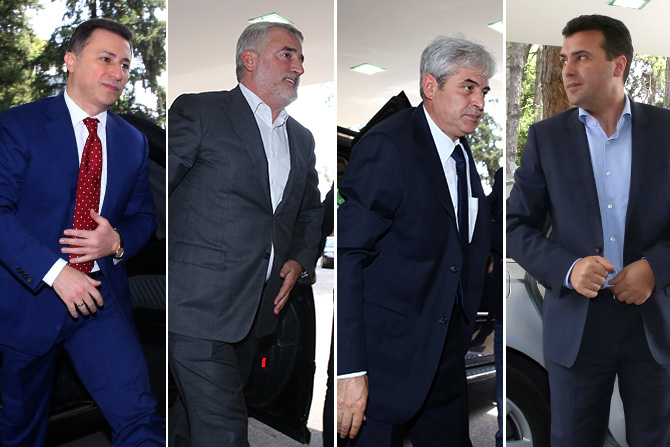 Skopje, 9 July 2015/Independent Balkan News Agency
By Naser Pajaziti
Negotiations between the main political parties in FYR Macedonia for the solution of the crisis have failed.
Leader of the largest opposition party, SDSM (Macedonian Social Democratic Union), Zoran Zaev said that the talks had failed and come to an end. Zaev noted that he will continue the publication of registered conversations, the so called "bombs".
Zaev said that PM Nikola Gruevski has refused SDSM requests to restore democracy and for a normal functioning of the state and also to hold fair and free elections. Opposition has declared the agreement reached on June 2 in the presence of EU Enlargement Commissioner, Johannes Hahn as invalid.
"Gruevski wants to drag on the process, but with this, he's damaging the citizens of Macedonia. Nikola Gruevski has mined the agreement reached on June 2. In these talks, Gruevski refused to accept the guarantees which restore of democratic institutions, normalize the functioning of the state and the holding of free and fair elections", Zaev declared.
Zaev said that the opposition continued to publish other registered conversations and also take other actions through democratic means.
However, the opposition said that it's ready to go back to the negotiations, but only if there are concrete proposals and guarantees for the solution of the crisis.
But, VMRO-DPMNE of PM Gruevski responded to the opposition, stressing that it fears the elections.
"Our suspicions that Zoran Zaev and SDSM do not want elections, are being proven right. They fear them and want to avoid them, also due to the public polls where they do not seem to have grown among the citizens. Zoran Zaev knows that he will lose the next elections and this is why he's trying to avoid them", VMRO-DPMNE declared. According to this party, Zaev is walking away from the June 2 agreement, which he, himself, signed and which the EU backed.
Meanwhile, the EU Enlargement Commissioner, Johannes Hahn has reacted by expressing his concern about this situation. "Macedonia is wasting time and politicians are putting their personal interests above state interests. Democracy is based on compromise", Hahn declared adding that he's expecting a final agreement to be reached between the majority and opposition by 20 July, which will also mark the meeting of the Association Committee in Brussels and which will see the participation of the EU head of foreign affairs, Federica Mogherini.
Political analysts say that this situation complicates the political crisis even more and that this situation may be radicalized.
"With the failure of talks, the situation will be radicalized in both sides. Opposition will continue with the publication of registered conversations, while opposition leader Zaev may also be arrested. It's clear that political parties in the country don't have the necessary capacity to manage the situation and the crisis and this means that every delay may take the situation out of control", declared Albert Musliu of the Association for Democratic Incentive.
Analysts demand a serious intervention of the international community with the scope of finding compromise which would help in overcoming the deep political crisis. /ibna/