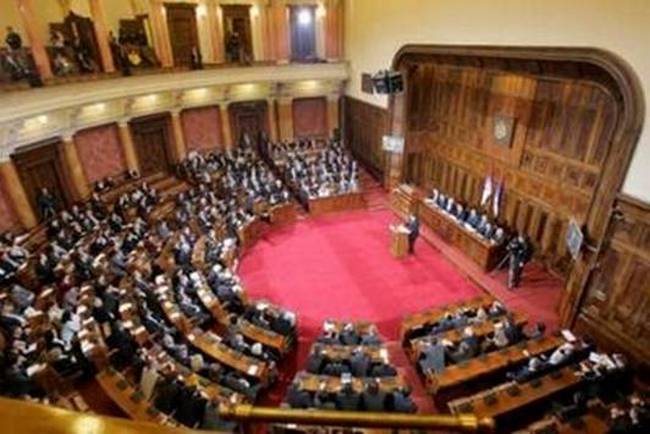 By Miloš Mitrović – Belgrade
Serbian ruling coalition leaders failed to reach the deal about the government reshuffle. The meeting between Aleksandar Vučić, leader of Serbian Progressive Party (SNS), Ivica Dačić, Socialist Party of Serbia (SPS) president and Mlađan Dinkić from United Regions of Serbia (URS) ended on Thursday evening. The coalition leaders did not give any statements after the meeting.
However, in the press release issued by URS it was stated that its Presidency would gather during the upcoming weekend and that the coalition leaders "are ready to improve the work of the government".
Serbian President Tomislav Nikolić said that the government reshufflle should be "fundamental and focused on the domains in which the problems are evident – economy, finance, police and prosecution".  "These are Serbian problems. It`s not about sports, that`s for sure", Nikolić said in Brdo pri Kranju, Slovenia, where he attended the regional leaders meeting.
Nikolić specified that he would not be satisfied if the reshuffling would be "reduced to resignations of the several ministers". "It is perfectly clear which domains are problematical".
Serbian Broadcasting Corporation (RTS) reported that both the SPS Presidency and SNS Central Committee would hold their meetings on Friday.
According to previous statements by the government officials, reshuffle should be finished by the end of this month. Nevertheless, the failed meeting held on Thursday had been expected to be crucial in this regard.
Earlier on Thursday Parliament Speaker and SNS Vice-President Nebojša Stefanović said that the upcoming weekend would be crucial "for the continuation of the government."
"We're not in the mood for elections because it would slow down reforms and Serbian integration into EU, but SNS does not exclude this possibility. If we cannot make that deal for Serbia to move faster, it is better to go to the polls," he told RTS.
"Government's reshuffling shall be formally finalized on Saturday. Changes shall be huge and for many completely unexpected. Vučić has set severe requests to his own party and has set the same requests to his coalition partners, the URS and the SPS as well", daily "Blic" reported.
Aleksandar Vučić as the Deputy PM is in charge for the fight against the corruption and organized crime, as well as for the national defense. In 2012 elections his Serbian Progressive Party won the majority in the Parliament. However, the SPS leader Ivica Dačić became the Prime Minister, as it was stipulated in the coalition agreement.