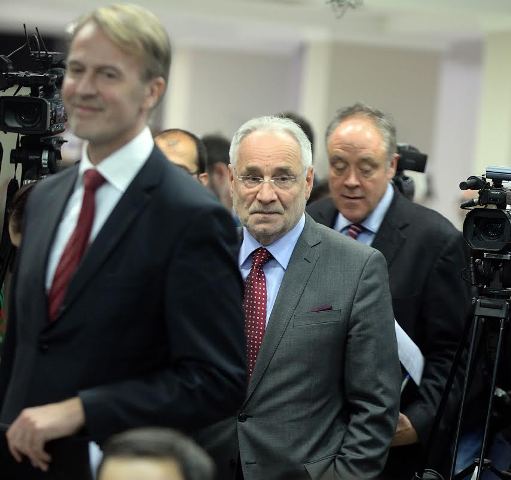 Skopje, April 16, 2015/Independent Balkan News Agency
By Naser Pajaziti
Round two of talks between majority and Macedonian opposition to find a solution for the political crisis, was held in Brussels yesterday. The negotiations continued until late in the evening, while the three intermediary MEPs issued a press statement to say that the negotiations will continue.
"The participants agreed on continuing the discussions in order to solve the political crisis and intensify political dialogue", reads the declaration of MEPs Eduard Kukan, Richard Howitt and Ivo Vajgl, who are brokering negotiations between party in power, VMRO-DPMNE and the largest opposition party SDSM (Macedonian Social Democratic League).
Sources close to the three MEPs said that the second round offers hope that things have moved in a positive direction and that sides have negotiated all day in a constructive way, in contrast to the previous negotiations held two weeks ago, which were very short.
Representatives of political parties did not issue any declaration and their parties said that they will not comment this round of negotiations, which according to them was very constructive.
The Macedonian opposition demands the resignation of the current government, the resignation of the board of the public radio television network and the resignation of the public prosecutor, giving way to an interim government and the holding of fresh elections.
On the other hand, VMRO-DPMNE  has demanded from the opposition to suspend the publication of fresh materials in the so called "wiretapping scandal", in order to give a chance to political dialogue, which according to them must be held in parliament.
VMRO-DPMNE has rejected the request for the resignation of the government and the formation of a technical government. /ibna/