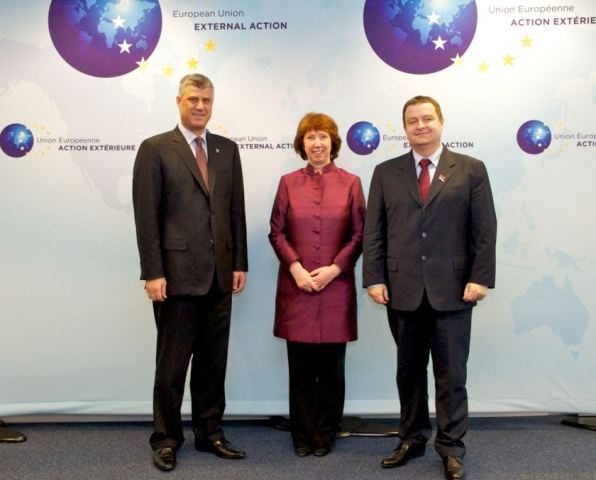 IBNA Special Report
Pristina, September 4, 2014/Independent Balkan News Agency
By Elton Tota
The talks for the normalization of relations between Kosovo and Serbia will resume today in Brussels under the monitoring of the European Union.
Deputy prime minister, Edita Tahiri, who is at the same time the head negotiator for the implementation of the Brussels talks, will stay in Brussels today and tomorrow, where she will participate in the meetings organized by the European Union on the issues of the integrated border management, free movement and other issues.
"The application of the technical protocol of IBM, signed by the Republic of Kosovo and Republic of Serbia, has now reached the final stage and parties are expected to agree on the final projections for the construction of the permanent buildings of IBM in all six border crossing points between the Republic of Kosovo and Republic of Serbia", reads the press statement of the government of Kosovo.
The agenda of these meetings in Brussels also contains discussions on the advancement of the implementation of the agreement for the free movement and issues of cooperation in the phytosanitary domain.
During her stay in Brussels, deputy prime minister Edita Tahiri will also have bilateral meetings with EU representatives in order to accelerate the implementation of the Brussels Agreement.
Experts of political developments in Kosovo told IBNA that the talks held so far between Pristina and Belgrade may be considered as failed talks, as the agreements reached so far have not been applied.
Analyst Shkelzen Dakaj told IBNA that Brussels must put pressure on Serbia to respect and find all mechanisms needed for the implementation of the agreements.
"So far, prime minister Hashim Thaci and his Serb counterpart, have signed 22 agreements, but these agreements have not been implemented. The new European leadership must put more pressure on Belgrade for the implementation of agreements which would lead to the normalization of relations. Otherwise, the negotiating process may be considered as a failed one", says Dakaj.
Meanwhile, professor of European Law, Bardhyl Hasanpapaj told IBNA that the normalization of relations between Kosovo and Serbia would accelerate their integration in the European Atlantic structures.
"Talks between these countries are necessary. If Serbia and Kosovo want to become part of European Atlantic structures, then they must talk and establish good neighboring relations, which is a condition for the integration of the two countries. I believe that the new European leadership will put the necessary pressure for the continuation of talks and full implementation of agreements reached so far in Brussels", says Hasanpapaj. /ibna/