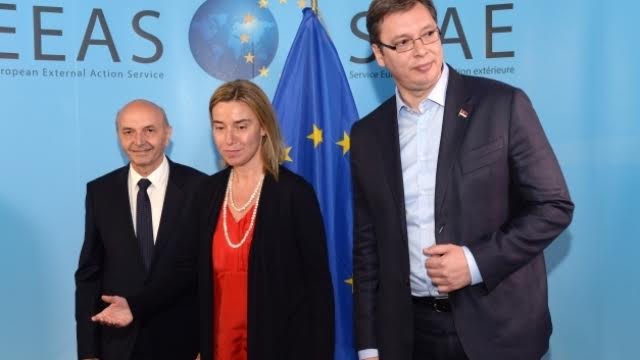 Pristina, 23 October 2015/Independent Balkan News Agency
By Elton Tota
The talks between Kosovo and Serbia are the main cause of the current political crisis in Kosovo. Opposition parties continue to see the dialogue between Belgrade and Pristina as damaging for the sovereignty of Kosovo. They even see the agreement for the Association of Serb Communes as a way to turn Kosovo like Bosnia.
But experts of political affairs have a different opinion. According to them, the normalization of relations between the two countries contributes to peace and stability in the region.
Analyst Daniel Server told IBNA that through these talks, Kosovo may benefit a diplomatic recognition by Serbia.
"I think it has been a good process with concrete results in several sectors and an overall improvement in relations between Pristina and Belgrade, which now clearly acknowledge each others' constitutional framework as extending to clearly defined territory. That is a short step from diplomatic recognition, which I hope to see sooner rather than later. That is one of a number of big outstanding issues that will have to be solved as part of the normalization process, including enhanced police cooperation, military to military understanding and admission of Kosovo into the United Nations", said Server for IBNA.
Professor of European law, Muhamer Pajaziti told IBNA that the talks between the two countries would have an impact in the reconciliation between the two nations, that have had prejudices for years against each other.
"Good neighboring relations are paramount in the path toward EU integration. This process may be productive if it is led by visionary and intellectual people, who know the importance of collaboration and promotion of peaceful ideas that benefit citizens of both countries."
"I believe that initially, the two countries must launch incentives for economic collaboration, which would enable the lifting of barriers between the two countries and a full liberalization of the market. This would lead to a better economic integration, which would then impact other dimensions, such as the political, cultural, educational ones. This was also the case between France and Germany after the Second World War", Pajaziti says.
Meanwhile, professor of international law, Vilhard Shala says that dialogue with Serbia must be finalized in the next 3 to 5 years with the Treaty of Peace which will consist of the recognition of Kosovo and the establishment of diplomatic relations.
After years of hostile feelings due to oppression, war and the declaration of Kosovo's independence in 2008, Serbia and Kosovo started their dialogue in March 2011.
The most important point dividing the two countries was Kosovo's status: a Serb province or an independent state. The talks on a level of experts started off with simple technical issues, brokered by the European Union. The hope was that solution to practical issues would boost trust and would pave the way toward a political proximity. But so far, this process has not yielded  the necessary results. A significant number of agreements between the two countries is yet to find adequate application in practice. /ibna/