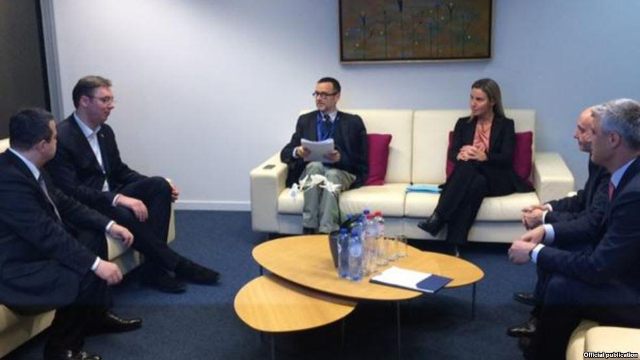 Kosovo and Serbia will be represented by their respective presidents and prime ministers in the next meeting that will be held as part of the talks brokered by the European Union.
Besides this, PM Isa Mustafa is also expected to participate in the meeting that is expected to be held in Brussels on Tuesday. The government of Kosovo has also confirmed the participation of President Hashim Thaci as part of the delegation. This was confirmed by the spokesman of the government of Kosovo, Arban Abrashi.
"Prime Minister Mustafa is in constant coordination with president Thaci for participation in the next meetings that will be held in Brussels", Abrashi said.
On the other hand, the Serb side has confirmed through PM Aleksandar Vucic that this meeting will be held on Tuesday and that the Serb President, Tomislav Nikolic will be part of the delegation.
"On Tuesday evening we will continue dialogue in Brussels with the support of the EU high representative, Federica Mogherini. Serbia will be represented by president of Serbia, Tomislav Nikolic and by me. I think that Albanians will also bring their most senior state leaders. I think that we will agree on the fact that no more armed forces should be sent to the inhabited Serb areas to show their muscles. What's important for Serbia is to avoid conflicts and provocations".
Meanwhile, representatives of opposition parties in Pristina say that the talks between the two countries must be suspended following recent developments.
For Self Determination, dialogue with Serbia has no reason to continue.
Meanwhile, AAK says that he holding of this meeting backs Ramush Haradinaj's arrest in France.
Tension in the recent days urged the head of the EU diplomacy, Federica Mogherini to call a meeting on 24 January between Kosovo's and Serbia's state leaders.
This will be the first high level meeting after more than a year for the normalization of relations between the sides.
On 14 January, authorities in Pristina halted a train that had left from Belgrade, whose destination was Mitrovica. The train had writings "Kosovo is Serbia" in it in over 20 languages.
This incident led to tension between the two countries to mount up. /balkaneu.com/