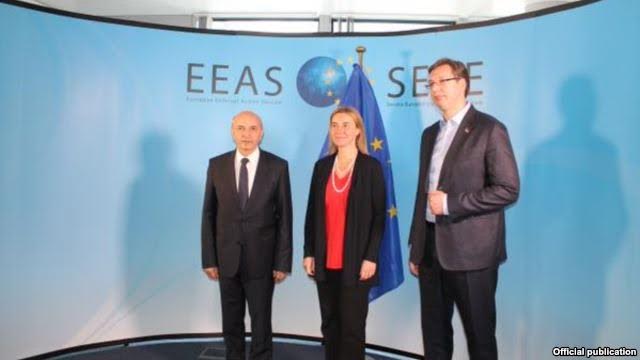 Pristina, 24 June 2015/Independent Balkan News Agency
By Elton Tota
No accord was reached on Tuesday evening in the high level talks for the normalization of relations between Pristina and Belgrade.
Kosovo's PM, Isa Mustafa said that yesterday was a very busy meeting with Serbia's PM, Aleksandar Vucic.
Mustafa said that both sides are committed to solve problems, while confirming that talks will resume on June 29, where efforts will be made to finalize several agreements.
Serbia's PM, Aleksandar Vucic said that the talks have been very difficult and that no final agreement has been reached.
"We have marked lots of progress and above all, with the most difficult issue, that of the Association of Serb Communes. I hope that in the coming days, we will be able to finalize that agreement, but we are also working hard on other topics too", Vucic declared.
Meanwhile, the head of European diplomacy, Federica Mogherini, said that although a deal was not struck, progress has been made on all topics that were discussed.
"In the meeting, the discussion was focused in the implementation of matters relating to energy, telecom, the establishment of the Association of Serb Communes in Kosovo and the freedom of movement in the Mitrovica bridge. Good progress has been reached in all matters. Our teams will continue and work in these four issues in the hours to come and we will soon meet in the days to come to finalize the agreements", Mogherini said.
Mogherini said that the Memorandum of Understanding for TPL Car Insurance has also been signed.
Fears that Kosovo may become like Bosnia
But, the most sensitive topic of this meeting, Association of Serb Communes is worrying public opinion in Kosovo.
Self Determination MP, Ilir Deda says that the functioning of the Association of Serb Communes will turn Kosovo into another Bosnia and Herzegovina and it will make Kosovo a federalized state.
Deda says that Serb majority demand to exert their powers in violation with the Kosovo's Constitution.
"The Brussels Agreement entitles Serb majority communes to exert their powers in a collective way through the Association of Communes and this is in violation with the Constitution of Kosovo and current laws. Communes cannot exert their powers in a collective way", he says.
LDK lawmaker, Lutfi Haziri demands from the Kosovo delegation not to change its stance in relation to the powers of the Association of Serb Communes.
Haziri says that it would be very damaging and problematic if this Association had executive powers.
"The creation of the Association of Serb Communes may establish a third power in Kosovo. This leads to a territorial and political autonomy for the citizens that live inside of the territory of the Republic of Kosovo", Haziri declared. /ibna/