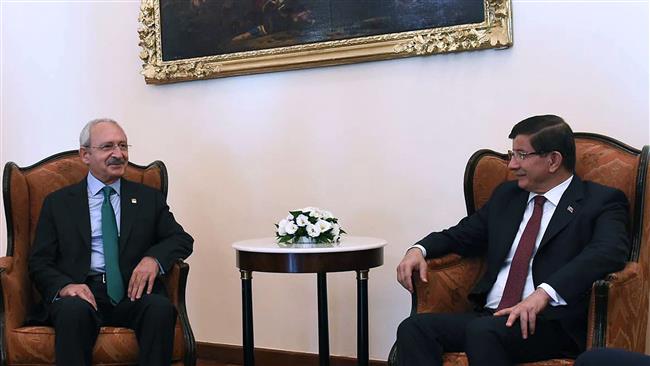 Ankara, August 14, 2015/ Independent Balkan News Agency
The country is heading to snap election in November
Possibility of a minority government with the support of the Nationalists for a limited period
By Manolis Kostidis
Turmoil has been caused to the turkish economy the announcement of the failure of the negotiations to form a coalition government between Turkey's ruling AKP and the Republican People's Party (CHP). According to estimates of political analysts, the way has opened for early elections in the country.
When the information became known, the turkish lira was depreciated by 1.49% against the dollar and the lira-dollar exchange rate reached 2.81. The index of the Istanbul stock exchange fell by 1.39% and reached 77096 units.
According to information, in Thursday's meeting between the trustee Prime Minister Ahmet Davutoglu and President of the CHP Kemal Kılıcdaroglu there was a significant gap. The AKP seems to have tried to lead talks to a stalemate, since the at final moment the government proposed the formation of a coalition government with one year horizon, while since the beginning of negotiations, the discussion revolved around a four-year term. The CHP responded negatively to this proposal.
"We found that there are significant differences between us on the government perspective. However, in order not to leave the country without a government, we proposed a coalition government for one year we did not agreed", Ahmet Davutoglu stated.
The AKR lost its majority in the Turkish Grand National Assembly elections of June 7, which does not allow it to govern alone for the first time after it came to power in 2002.
Davutoglu has a deadline until August 23 in order to find minor government partner or else President Recep Tayyip Erdogan will be eligible to call for early elections.
The AKP is now expected to hold talks with the nationalist opposition party Nationalist Movement Party (MHP), which has hinted it could support for a time an AKP minority government, provided that new, early parliamentary elections will be proclaimed. The approximate date of elections is expected to be in November.
However, it is striking that Turkey, despite the election results continue to be governed by the AKP. And recent polls show that the military operations against the PKK and ISIS have increased the AKP rates compared to the elections of June 7.
A poll published by the Turkish newspaper Sabah shows the rates of the AKP increase to 43.8%, while in June it had received 40.8%. At the same time, there is also a rise in the rates of the CHP to 25.5 of 24.9%. On the other hand there is downward trend for the Nationalists, MHP with 15.4 from 16.2%, and the pro-Kurdish HDP with 12.5% ​​from 13.1%.
Continued fighting with the PKK and the rise of nationalism may reduce the rates of the HDP even further.