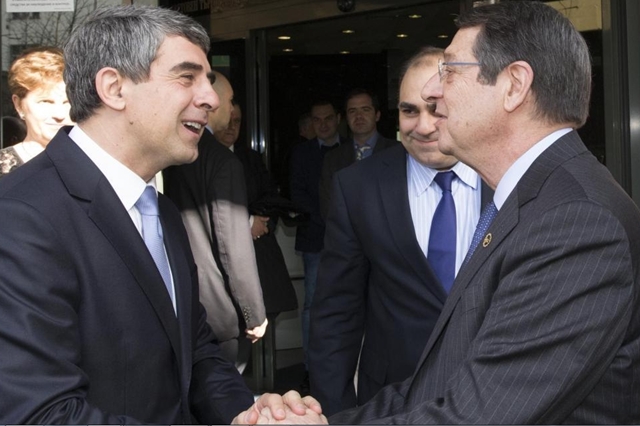 Sofia, February 23, 2016/Independent Balkan News Agency
By Clive Leviev-Sawyer of The Sofia Globe
Bulgarian President Rossen Plevneliev told a Bulgarian-Cyprus business forum on February 23 that talks with visiting Cypriot president Nikos Anastasiades has opened a new horizon for actions in areas such as trade, tourism, energy, agriculture and the food industry.
Cyprus is a centre for much wider regional activity, Plevneliev told the meeting, which brought together more than 60 business representatives from Bulgaria and Cyprus.
Plevneliev highlighted the positive dynamics in bilateral trade.
In 2015, compared to the previous year, the two countries had more than 80 per cent growth in turnover. Bulgarian exports grew in one year by 90 per cent and Cypriot exports to Bulgaria by 47 per cent. Cyprus is the sixth most major investor in Bulgaria with investments of about 2.1 billion euro.
"I am sure that you will appreciate and will upgrade this growth. This is a very significant achievement and we welcome any investment from the Republic of Cyprus," Plevneliev said.
He said that Bulgaria was accelerating the modernisation of its infrastructure and carrying out ambitious reforms in the fields of energy, education, health and administration.
Plevneliev said that Bulgaria enjoys the confidence of investors, and foreign direct investment in 2015 grew by over 40 per cent, a large proportion of it in new industries and technologies.
Bulgaria is also among the leaders in the field of business process outsourcing, and information and communication technology. The Bulgarian capital Sofia had been declared third in Europe in the number of new start-up companies in Europe.
"We want Cyprus business to discover this Bulgaria, which offers among the best conditions for doing business in Europe at the lowest price. Bulgaria created the first hi-tech park in the region – Sofia Tech Park, he added, and invited the Cypriot businesses to take advantage of the opportunities.
Anastasiades described as very fruitful his discussions with the Bulgarian authorities and highlighted the European dimension as an axis of co-operation between Bulgaria and Cyprus.
Anastasiades noted that Cyprus was among the largest investors in Bulgaria and encouraged bilateral exchange of information and experience in priority areas such as trade and economic co-operation, energy and tourism.
Cyprus is emerging stronger from the financial crisis and is recovering very quickly, he said.
The country is restructuring and recapitalising its banking sector and has undertaken a series of structural reforms, which resumed access to international capital markets considerably earlier than other countries with similar problems, the Cypriot president said.
(Photo: president.bg)