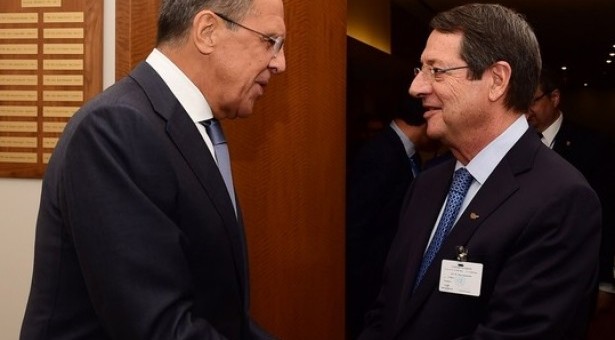 Review Hari Stefanatos
In a warm and friendly atmosphere was held the meeting between the president of the Republic of Cyprus, Nikos Anastasiades, and Russian Foreign minister, Sergey Lavrov, on the sidelines of the UN General Assembly. In the focus of the meeting were issues of bilateral relations, as well as the Cyprus and Ukraine matters.
Among other things, there was a discussion on the ways to enhance cooperation between Cyprus and Russia.
Moreover, as a government source said, Russia understands and appreciates the attitude of the Cyprus within the EU, to the issues relating to the sanctions.
Lavrov warmly welcomed the Cypriot president and the Foreign minister and conveyed the greetings of President Vladimir Putin.
"We have the opportunity to take stock of the situation and see how we can improve our cooperation", said Lavrov addressing president Anastasiades.
In a joint press conference, president Anastasiades said there was an exchange of information on the current situation in Cyprus, while also reaffirmed their commitment to continue the close and historical relationship.
"Once again I would like to extend my sincere thanks to the attitude of the Russian Federation on the Cyprus issue and the assistance we have been receiving in several areas. We will continue the excellent relationships we enjoy today", he said.
In line with the estimates of the president of the Republic, the Russian Foreign minister said they discussed the state of bilateral exchanges bwtween Russia and Cyprus in tourism and other sectors, in view of the Intergovernmental Economic Commission, which will take place sometime next year.
Speaking to Cypriot reporters, the president described the meeting as very useful, since it was an opportunity to exchange information on various current problems and developments in Cyprus and Ukraine.
"I must confess that I am completely satisfied with the positions expressed by the minister of Foreign Affairs of the Russian Federation. The excellent relations will continue and I think it is perfectly understood by him that the position of Cyprus on various issues related to penalties or other problems, is as friendly as can be", concluded the president.
The meeting was also attended by the government Spokesperson Nikos Christodoulides and the permanent representatives of the two countries, Nikos Aimiliou and Vitaly Churkin.