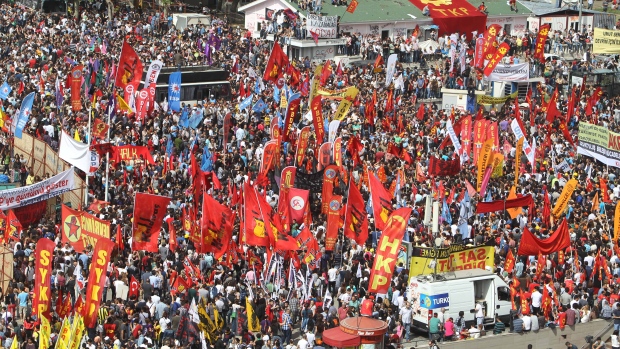 By Manolis Kostidis – Istanbul
Taksim Square and Geza park were once again turned into battlefields after thousands of Turkish police officers attempted to evacuate the area from protesters.
Early in the morning riot police stormed the wider area and began the evacuation mission. Armored police vehicles broke barricades and used tear gas to push away protestors who tried to respond by throwing Molotov cocktail bombs.
Police reappeared at the square after twelve days from the day clashes began due to excessive police force on protestors staging a demonstration at the square.
The police operation started at 7 am with clashes between thousands of officers and protestors in the streets where most of Istanbul's hotels are, continuing until the evening.
Istanbul's prefect said the authorities' intervention did not target the Geza park protestors but extremists who cause trouble, and offered assurances that police will not invade the park. However, at noon, nearly 50 police officers appeared in the park and removed banners.
Surprisingly, television stations broadcast the police intervention against "extremists" without any break, reporters pointed out.
Fourteen days ago, when police violently broke up peaceful demonstrations, silence prevailed.
Another point that raised suspicion amongst many Turks is the fact that demonstrators did not throw Molotov cocktail bombs against police in any of the last few days' protests, especially those in Taksim Square. Now that TV stations were broadcasting live footage, Molotov cocktails appeared, causing demonstrators to talk of "acts of state provocation".
Protestors held Socialist Republic Party (SDP) flags and banners. As a result, police raided party offices in the square and, according to Istanbul Prefect, Avni Mutlu, made 70 arrests.
In turn, the Social Democrats announced those who threw Molotov bombs weren't members of their party.
49 LAWYERS ARRESTED!
Lawyers at the Istanbul courthouse decided to protest police actions in the Geza Park. Police raided the courthouse and arrested 49 lawyers who are being held for questioning.
During the arrests, trouble was caused as police pulled many lawyers by their clothes and dragged them down stairs.
Twenty Republic People's Party MP's decided to go to Taksim Square to protest the arrests of lawyers and police intervention at the square.
ERDOGAN: THEY WANTED TO OVERTHROW ME LIKE MENDERES
Meanwhile, under such circumstances, Erdogan likens recent events in Turkey with those leading to the 1960 and 1980 coups! Essentially, he likens himself to Menderes who was hanged.
The Turkish Prime Minister argued the protests and events that followed were all an attempt to overthrow his government.
Erdogan stated: "What has happened now is like the provocations before the military coup of May 27 1960 and the unrest before the 1980 coup. However, those who planned similar actions now found before them the wall of the people".
"The people haven't forgotten 1960 and Menderes, they haven't forgotten Turgut Ozal and they haven't forgotten the 28th of February and Necbetin Erbakan", he stressed.
In a speech to his party's Parliamentary Group members, Erdogan argued that protestors had also targeted the economy. "There was a plan to intimidate investors. Everything was done with support from abroad as well as inside Turkey. The international press was misinformed. There was a systematic attack on Turkey. This wasn't a democratic struggle," Erdogan said.
The Turkish Prime Minister, in a threatening tone, urged protestors to leave Geza Park.
FACEBOOK AND TWITTER RESTRICTIONS
Turkish daily Hurriyet reports the Turkish government is ready to set restrictions on the use of twitter. However, it doesn't mention how these will be imposed. In the past, a law restricting sites with sexual content was approved. Erdogan has called twitter a "pain". Istanbul Prefect, Avni Mutlu, mentioned "social networking sites are used by some as means of provocation and we will have to deal with that. Security forces will start an operation against such attempts". The prefect himself however, sends out a tweet nearly every hour.
"DO TENTIONS BENEFIT ERDOGAN?"
Unlike other polls, pollster Pollmark – which conducts research for the Justice and Development Party (AKP) – says "trouble in Taksim Square has benefited the ruling party. AKP is ahead in recent polls with 51% over 22% of the Republican People's Party (CHP) and 14% of the Nationalist Action Party".
"Vandalism and left-wing slogans rally right-wing voters around AKP. If tensions continue, the AKP will increase poll rates to 60 pct" professor Ertan Agntin says, an adviser to Erdogan.
TURKISH ECONOMY GROWS 3 PCT
The Turkish economy grew 3 pct in the first quarter 2013, a positive trend considering growth in the final quarter of 2012 stood at 1.4 pct. The government's growth target for 2013 is 4 pct.