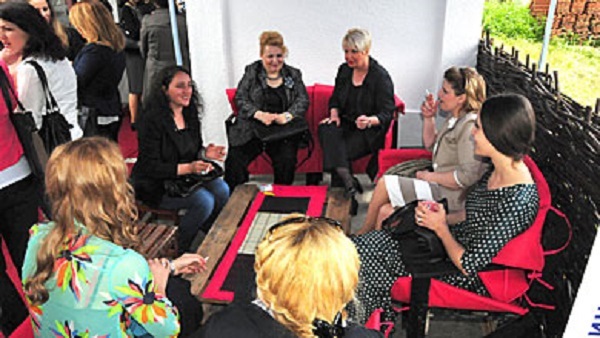 IBNA Special Report
Skopje, June 2, 2014/Independent Balkan News Agency
By Naser Pajaziti
Women have their own exclusive cafe to drink their coffee or eat their cakes in Tetovo, an area mainly populated by Albanians, in the former Yugoslav Republic of Macedonia.
"Women Club FM" bar-café was opened through a ceremony in the village of Kamjan, Tetovo.
Up until today, this area only had cafes attended by men, and women didn't enter them, even in the company of the men or their family.
"Women Club FM" is an exclusive bar for women and men are not allowed to go in there.
Medina Sinani, a young businesswoman, told IBNA that it had been a while that she had been thinking on opening such bar, the first one in the country. She wanted to open a café which would be preferred by the local women, "who in order to enjoy a coffee or a little company with each other, don't have to travel several kilometers to Tetovo".
Apart from the owner, the personnel and visitors are also women, as men are not allowed to go in.
Medina Sinani told IBNA that the idea for this business was born as a need for the women of this area to have their own place to meet and exchange ideas on different activities.
"With this, we want to achieve a balance with men's cafes that are in large numbers. This is why we've opened a café only for women. I would want the women of the areas around to come and visit us regularly. This would also be good for them", says Medina.
This café also has a children playground, where women can bring their children to play. The café will also host exhibition activities, where women will be able to promote their craftswork.
USAID project for the Expansion of Small Businesses, commune of Bogovina and Association for Rural Development will officially form a partnership for the support of businesswomen in Pollog.
Mery Joe Wholers, wife of the US ambassador to Skopje, has enjoyed her first coffee at "Women Club FM". She says that this place must be attended as much as possible by women of the area, because it will also be a center of activities and different incentives in order to improve the position and role of women in society.
"I think that this is not only a place to have coffee. This café will also be a place where women can exchange their ideas for different activities and businesses. This idea is an important potential, because it will improve the life of women in this area", declared Mrs. Wholers.
In this event, she was accompanied by ambassador Wholers.
Local women say that they will be regular customers to enjoy a coffee and talk. "We're intellectual women who have to travel in order to have a coffee. Now we have our own bar. It will break the taboo of the men's cafes, which are a tradition here. At the same time, it will also act as competition, in order for other bars to offer such family friendly environments acceptable for women", says Arlinda M.
This project was enabled with the aid of a grant from USAID in Skopje, in the framework of the project for the support of women entrepreneurs, while support has not been lacking from the commune of Bogovina and Association for Rural Development. /ibna/