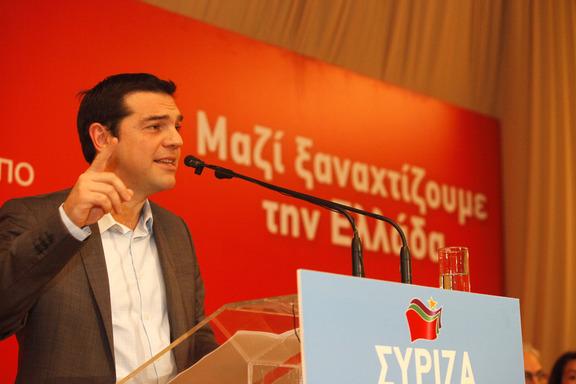 By Spiros Sideris – Athens
Final preparations are being made at SYRIZA for the updating of its governing program, which will be presented by Alexis Tsipras to Thessaloniki International Fair (TIF). Today, in a joint meeting of the members of the Programme Committee and the Political Secretariat, they will discuss the updated proposal of the party, which will include clarifying the programmatic positions on all major issues, with emphasis on the economy.
The main themes include unemployment, poverty, democracy, taxation and productive reconstruction. These issues will also be the focus of events that will precede Tsipras' visit to Thessaloniki. In TIF, the president of SYRIZA will escalate his attack against the government calling for its overthrow.
Referring to the governing program of SYRIZA, Vitsas explained that it will be put to consultation with the people and it will include all the direct actions of the party when they become government, in the medium term. The project of the programme will be put to consultation both at the party and in social institutions and political forces that could form a government coalition with SYRIZA, noted the secretary of the party's CC.
"We do not recognize the political right of the current Parliament to elect the next President of the Republic", SYRIZA's spokesperson, Skourletis, said yesterday, reiterating the de facto question of political legitimacy of the government after the results of the euro-elections, which brought SYRIZA first in the citizens' choice.
Insisting on the mismatch of the election results with the correlations in the current Parliament, SYRIZA will not propose a candidate for the Presidency of the Republic. "It is not about the person", said the party spokesperson, adding that the Constitution "does well and puts the safeguards requiring a broader consensus", to continue by saying that "today it does not appear that there can be a broad consensus, but nor do the correlations in the current parliament are the real correlations that exist in greek society". "SYRIZA wants disengagement of the presidential election from the efforts made ​​to 'translate an eventual election from this Parliament as a "green light" for the continuation of the same destructive policies" and seeks for it (presidential election) to be the "work of a new upgraded by the popular will the House of Representatives".
Elections in the fall or at the very latest at the beginning of next year predicted D. Papadimoulis. "It is obvious that time is working against the twin of failure Samaras-Venizelos", he said and added that on September 6, in the TIF, "I expect a huge misleading campaign by the Prime Minister".