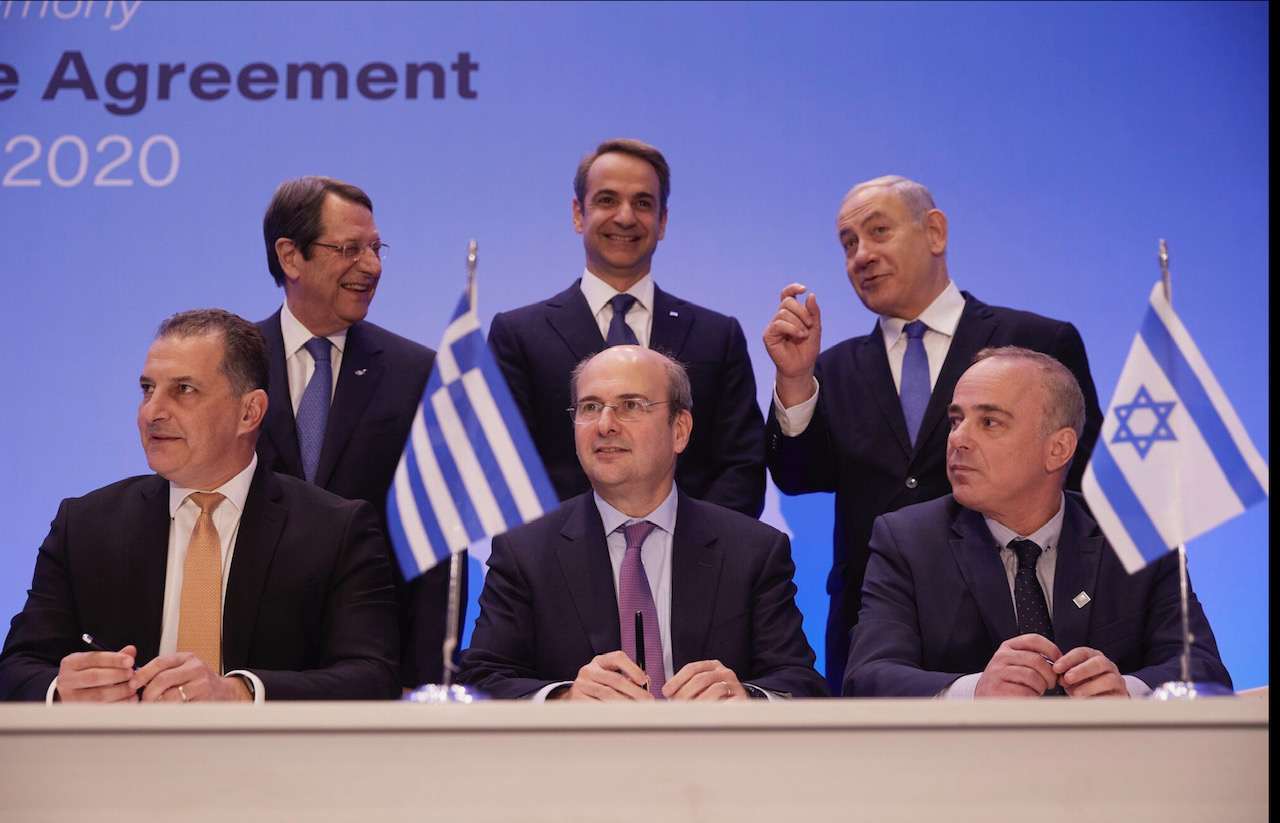 SYRIZA welcomed the signing of the Greece-Cyprus-Israel Interstate Agreement on the EastMed Pipeline, describing it as "a work that is decisive in upgrading Greece's position as an energy hub in the region and enhancing its geopolitical role".
As SYRIZA stresses, the strategic importance of the project was highlighted during the Tsipras administration, with key milestones the 5th Greece – Cyprus – Israel Summit in December 2018 at Be'er Sheva, the approval by the European Commission last February, and the first 3 + 1 meeting in March 2019 where US Secretary of State Mike Pompeo emphasized the strategic importance of the project and United States' support for it.
Addressing the government, SYRIZA identifies four fronts on which Mr Mitsotakis should step up efforts to secure the project:
First, during the forthcoming meeting and the press conference of the Greek Prime Minister with Donald Trump. "Clear support for the EastMed pipeline and the 3 + 1 cooperation framework needs to be ensured". President Trump's recent objections to the adoption of the "Eastern Mediterranean Partnership" Bill, including support for the 3 + 1 format, are a worrying sign, SYRIZA points out, stressing that ratification of the US – Greece military upgrade bill at four sites, filed on 24/12/2019, can only depend on the degree of convergence of Greece's interests with the US.
Secondly, the Government must seek Italy's active involvement in the project, without which it can have no future. It is recalled that Italy signed the Quadripartite Joint Declaration on the Pipeline in April 2017 in Tel Aviv and the Quadripartite Memorandum of Understanding in Nicosia in December 2017, while the quadripartite negotiations were concluded in December 2018. "The Agreement could have been signed as soon as February 2019, however, the goal of the SYRIZA Government was not simply its signing but Italy's participation in the signatories", the opposition states. As they point out, the recent letter of the Italian Minister of Economic Development is not enough.
Third, Alexis Tsipras' party reiterates that the Government should seek to extend European sanctions against individuals and companies who commit unlawful acts within the area of ​​the Turkey-Libya Agreement. "Obstacle to an EU-backed project is clearly leading to European measures and sanctions," SYRIZA says.
Fourthly, it is noted that it must be ensured that DEPA will not face any difficulties in implementing the project, following the recent law allocating to a private individual the entire percentage of the state in the natural gas networks (DEPA Infrastructure) and maintains a majority share in the public DEPA International, without however, ensuring any revenue to finance these international projects. "SYRIZA's government planning ensured the EastMed Pipeline's financing, as fixed income from natural gas networks would be directed to international projects", it is noted./ibna