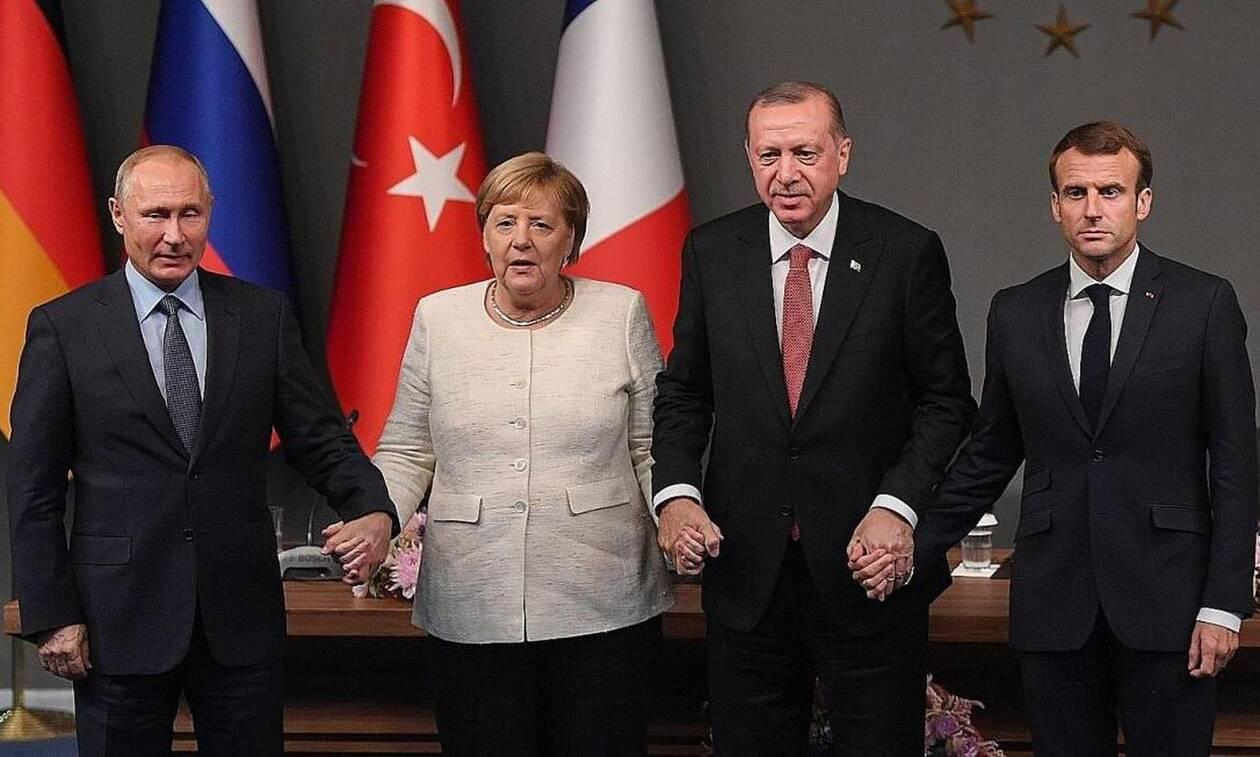 SYRIZA blames Kyriakos Mitsotakis and his government for their absence from the Berlin Summit on Libya. "It appears that it is not Turkey that is isolated from the international community; Greece was absent from a crucial process that now concerns its sovereign rights", SYRIZA notes in a statement, referring to the "heavy responsibility of the Mitsotakis government".
The main opposition is pointing to the first ever participation of Algeria and Congo, but the absence of Greece, which participated in the previous International Summits on Libya in Palermo, Italy in November 2018 with the Prime Minister at the time Alexis Tsipras as its representative. Indeed, former Foreign Minister Nikos Kotzias revealed on Twitter that when Italy was preparing for the Palermo conference he had threatened them with a veto. "I sent them a very clear message without begging for anything: "No decision will be made unless Greece is called. Otherwise, the veto will be on the conference table of the Foreign Minister". That is what they were supposed to do now as well", the former minister tweeted.
Responding to SYRIZA, the government spokesman accused the main opposition of "cheering" on Greece's non-invitation to Berlin. At the same time, he notes that in June 2015, when Germany hosted the first senior officials meeting from the P5+5 scheme, which developed into the Berlin Process, the Tsipras government "neglected to even consider Greece's possible participation", stressing that Greece "Under SYRIZA's responsibility" was absent from the Abu Dhabi (2017) and Paris (2018) Summits.
For his part, SYRIZA noted that UN special envoy Ghassan Salame's proposal for peace in Libya following the resurgence of the conflict in April 2019 came to light on July 29, 2019. He then visited capitals and officially made his proposal at the UN Security Council, to launch a new process in Berlin on September 4. The first meeting took place in mid-September in Berlin, they say, so that puts it under Mitsotakis's governance.
What is more, they emphasize that the November 2018 Palermo Summit was not the only conference on peace in Libya in recent years or part of the Berlin Process of 2019, but the last international initiative before the 2019 Berlin Process. "Therefore, after securing the country's participation there, our non-invitation today to the Berlin Process, at a time when we had even more reason to be there, as our major national interests are at stake, constitutes a major setback for our foreign policy ", adds SYRIZA.
Keeping up with its fierce criticism against the Government's foreign policy, the main opposition party speaks of "disagreements" and "contradictory statements" in recent months over whether the dialogue on confidence-building measures with Turkey must continue; whether measures were taken for the European sanctions to be extended to include illegal activities outside of Crete; to what extent the Prime Minister's statement of support for the execution of the Iranian general was correct; if there was indeed a distinct US initiative for avoiding a major clash with Turkey outside Crete after the Prime Minister's visit to Washington; whether the government was struggling to attend the upcoming Berlin Summit, according to the Government Spokesman, or whether it will not participate, as the Foreign Minister states. /ibna