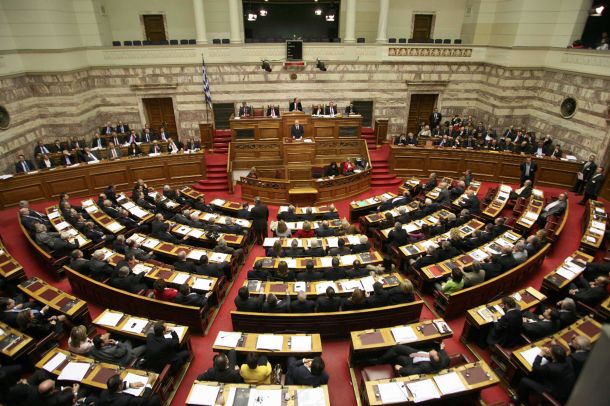 Athens, April 1, 2015/ Independent Balkan News Agency
By Spiros Sideris
SYRIZA and ANEL tabled a proposal for the examination committee for the inclusion in the Memorandum.
Late Tuesday night the two coalition parties tabled a proposal for the establishment of a Committee to investigate the inclusion of Greece in the Memoranda and supervision.
The decision of SYRIZA to table a proposal for the creation of a committee of inquiry for the inclusion in the status of Memoranda and supervision, announced the Secretary of the Parliamentary Group Christos Mantas immediately after the completion of the meeting of the presidency of the PG that took place in the presence of Prime Minister Alexis Tsipras in the House.
"The Parliamentary Group of SYRIZA tables today a proposal for a committee of inquiry which will investigate the inclusion of Greece in the status of Memoranda and supervision, as well as any other matter related to the implementation of the Memorandum. Therefore, we implement our commitment and common social demand, with no intention of revanchism and criminalisation of the political life, in order to explore the causes and responsibilities of an unprecedented crisis that devastated the vast majority of society", Mantas said.
The proposal was submitted yesterday evening and has all the signatures of the Parliamentay Group.
Τhe investigation of the selection committee proposed by SYRIZA for the Memoranda will include four crucial periods:
The first period October 2009 – May 2010, that is investigation for inclusion in the Memorandum (first loan agreement).
The second period May 2010-November 2011 – the second loan agreement.
The third period November 2011-May 2012, namely the PSI.
The fourth period May 2012 onwards.
Opposition spikes for the Committee on the memorandum
"They can do as many committees as they want", says in a statement the representative of the New Democracy Kostas Karagounis. "The New Democracy, he adds, is untouched by any inquiry. However, even young children understand the feasibility of the proposal at this time. When the Tsipras-Kammenos coalition cannot provide bread, they try to offer spectacles".
"Another inquiry committee to demagoguery and for domestic consumption", says The River and adds: "parades of surnames under investigation to talk about the past and not talk about the present". Indeed, it stresses that it stays outside the investigation the period of the Karamanlis government.
"We are looking forward to it, as the Standing Committee to also examine what the government is doing now and how we will unfortunately go to the 3rd Memorandum", said PASOK citing recent statements by Evangelos Venizelos.
The inquiry committee should investigate not only the signing of the memoranda, but also the root and how we got there: armaments, 2004, expenditure 'party'", wrote on his personal twitter account SYRIZA MEP Dimitris Papadimoulis.