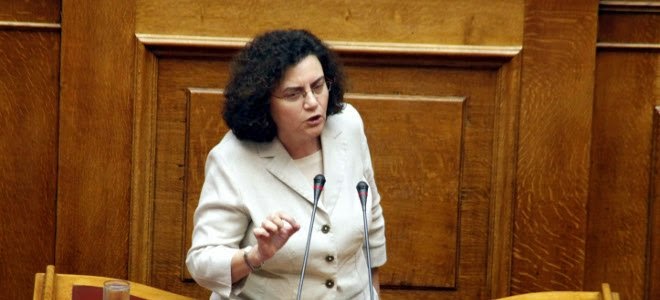 By Spiros Sideris – Athens
The positions of SYRIZA on foreign policy with a focus on the crisis that has erupted in the Cypriot EEZ, expressed at the meeting of the Standing Committee on Defence and Foreign Affairs, MP Nadia Valavani, Head of External Affairs of SYRIZA's Parliamentary Group.
SYRIZA welcomes and supports the search for alliances between all the countries of the region, in which Greece and Cyprus can rely to safeguard the exercise of the sovereign rights of the Republic of Cyprus.
At the same time, Valavani argues that Greece must keep an open line of communication with Turkey, because this is necessary for a sober attitude and an open foreign policy in the future. Other but this, and other programming of the 3rd meeting of the High Cooperation Council Greece – Turkey at a time that "Barbara" and Turkish warships are in the Cypriot EEZ.
We want, said Nadia Valavani, the HCC Greece-Turkey to acquire another role than the one it had in the previous two sessions. Instead of being consumed in the production of numerous agreements, the overall significance of which is minimal, to focus on 2-3 substantive agreements that will solve real problems between the two countries. This diplomatic body, however, will be unable to make a difference in this way in a crisis and "gunboat diplomacy" climate.
On the proposal of the UN Special Envoy Espen Barth Aide, to withdraw the «Barbaros», for the creation of a consultation team for the distribution of future income from hydrocarbons regardless of the negotiations on the Cyprus problem, the MP of SYRIZA said that it is not possible to remove the agreement on how to distribute those revenues between the two communities from the total package of negotiations for a just solution to the Cyprus problem in accordance with the UN resolutions. That would mean not only a great weakening of the bargaining position of the Republic of Cyprus, but would also remove a serious incentive towards the achievement of a comprehensive resolution.