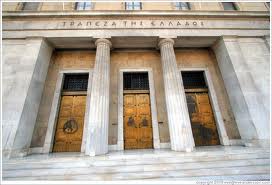 By Lefteris Yallouros – Athens
Greece's left-wing main opposition party, SYRIZA, commented on the results of European Central Bank stress tests on Monday via the release of a non-paper.
SYRIZA has urged the government to keep the Hellenic Financial Stability Fund's stake in the country's systemic banks intact as well as issue new shares at the value of the banks' tax credit.
Banks stand to gain between 3 and 5 billion euros from changes to the country's laws on deferred tax assets.
The main opposition party stresses that the state has bailed out banks with 4o billion euros plus an extra 10 billion euros from deferred tax. Through the recapitalization process, according to SYRIZA, the public interest has not been served well as the state lost almost 8 billion euros.
Armed with 50 billion euros ($68 billion) from the country's 240 billion-euro EU/IMF bailout, the Hellenic Financial Stability Fund (HFSF) was set up to recapitalize the top four banks and cover the cost of winding down others deemed non-viable.
Furthermore, SYRIZA notes, banks are yet to boost liquidity, wipe out non-performing loans for poor, over-indebted households and honest, struggling businesses or assist the real economy in recovering from the prolonged crisis. According to SYRIZA, the government has done everything it can through its provisions for non-performing loans to serve the interests of corrupt businessmen and bankers.
Naturally, the government refuted all of SYRIZA's claims. Finance minister Gikas Hardouvelis expressed satisfaction that the country's banking system «passed successfully» the ECB's stress tests, noting that Athens still has a buffer of 11.4 billion euros at its bank bailout fund.
"It's extremely important that the reserves of 11.4 billion euros at the HFSF (Hellenic Financial Stability Fund) are left unused,» Greek Finance Minister Gikas Hardouvelis said in a statement.
On Monday, government spokeswoman Sofia Voultepsi criticized SYRIZA of being disappointed that the bank deposits of the Greek people have been secured and of wanting to nationalize the country's banking system.
Following the successful results in the ECB-run stress tests, rumors surfaced on Monday that banks will seek to acquire shares owned by the Hellenic Financial Stability Fund in order for private owners to hold majority stakes. The move could be fast-tracked through the use of warrants in Alpha Bank, the National Bank of Greece and Piraeus Bank.