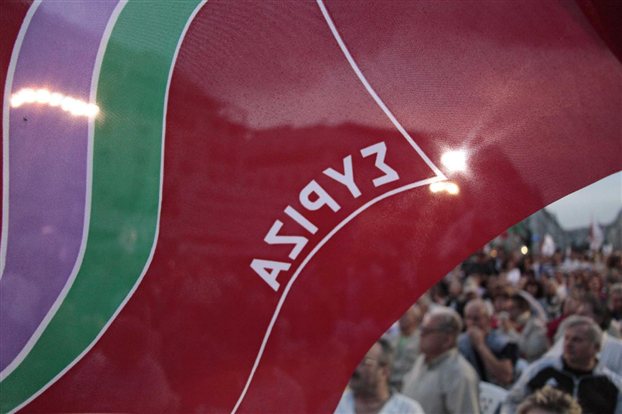 Review Hari Stefanatos
With interventions from a number of prominent members, SYRIZA excludes the possibility of a post-election cooperation with New Democracy (ND), an issue that was raised after a statement by the Defense Minister, Dimitris Avramopoulos.
SYRIZA's members speak of "a strategic bewilderment in ND", while at the same time they leave open the possibility for alliances with forces of the Center-Left.
According to the newspaper "Ethnos", the first director of the political office of Alexis Tsipras, Nikos Pappas posted on Twitter: « Avramopoulos' proposal refers to NDs internal affairs. Elections necessary. Cooperation ND – SYRIZA out of the question".
At the same wavelength was SYRIZA's MEP D. Papadimoulis, who stressed that "the differences between ND and SYRIZA are so large that a coalition would lead to political teratogenesis".
He referred to the statements from ND MPs for a potential coalition between the two parties "a strategic bewilderment of ND after the defeat in euro-elections" and noted that all of SYRIZA's initiatives for a coordination with the government have been thwarted by the Prime Minister. "It constitutes a political anomaly the fact that for two years now Samaras has not called the leader of the opposition even once for a briefing", he said.
Meanwhile, the parliamentary party spokesperson D. Stratoulis described the proposal for a coalition SYRIZA-SW as "a very short political joke". It has no political base. It's like marrying water with fire".
However, the leadership of SYRIZA leaves the door open for a governmental cooperation with progressive forces in the context of the two-sided opening to the Left and the Center-Left that was decided by the Central Committee upon the recommendation of Alexis Tsipras.
"If there is no absolute majority by SYRIZA, of course we will do whatever it takes in order to have a parliamentary majority and form a government, either with the participation the support, or the tolerance of the other parties. If the Greek people gives us the mandate to take the initiative to form a new government, we will certainly not turn it back, we will utilize it", Dimitris Papadimoulis clarified.
(Source: Voria)