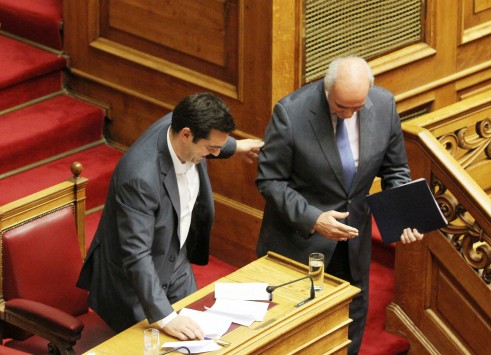 Athens, September 9, 2015/ Independent Balkan News Agency
By Zacharias Petrou
A report in Greek daily Ta Nea revealing that Greek debt relief talks would begin only if the September 20 election results in the formation of a broad coalition government has stirred reactions.
The newspaper cites European Commission sources saying that Brussels would like to see a coalition government formed in Greece with as many parties as possible before sitting down to discuss Greek debt restructuring.
According to the report, EU officials have been informed of this preference that would see left-wing Syriza and center-right New Democracy form a grand coalition around which other parties, such as centrist To Potami and socialist Pasok, could also rally.
An unnamed EU official told Ta Nea that it would be almost impossible for a government with a small majority to implement all the unpopular reforms the bailout program requires. Should reforms stall, debt relief cannot be discussed in the Autumn as Greek political parties hope.
Former deputy Prime Minister Yannis Dragasakis immediately dismissed the report. "Creditors cannot dictate who will govern the country" he said.
Euclid Tsakalotos, a former Syriza Finance Minister who negotiated the third bailout deal, also slammed the report. "No large coalition government can pull the country out of the mire," Tsakalotos said.
He added that a prerequisite for growth is a debt restructuring which was a priority set by the Syriza government, contrary to other parties, such as New Democracy, which considered it sustainable. "Therefore, no large coalition, as a Commission source is quoted as saying, can guarantee debt restructuring – quite the opposite," he said.
Based on the latest opinion polls no party will command an absolute majority following the upcoming snap election. In fact, a coalition of more than two parties may be required in order for a government to be formed, depending on how many parties enter the House.
So far Syriza has ruled out cooperating with New Democracy. Leader Alexis Tsipras calls the conservative party "part of the old establishment" which has nothing new to offer the country. Tsipras has not ruled out joining a coalition with To Potami and Pasok.
On the other hand, New Democracy leader Vangelis Meimarakis has publicly called on Alexis Tsipras to negotiate a grand coalition with him. In fact, he recently revealed that he is open to Tsipras staying on as Prime Minister provided that a deal can be reached that will ensure stability for the economy.
Much might depend on how the Independent Greeks party – led by Panos Kammenos – performs in the election. If Alexis Tsipras's former coalition government partner fails to enter parliament this time around, it could pressure the former PM into making second thoughts.