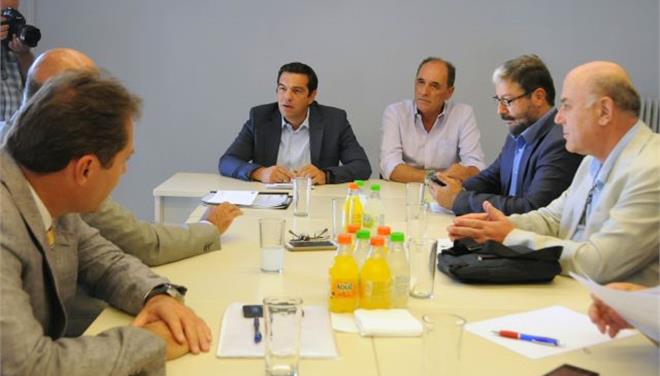 By Spiros Sideris – Athens
SYRIZA's opposition to the privatization of regional airports, underlined the party's president Alexis Tsipras in his meeting on Monday with the Chair of the Association of Greek Tourism Enterprises (SETE).
At the same time, he formulated the view that the increase in tourism should be well connected with the diffusion of tourism revenue in the real economy.
Also, the president of SYRIZA, referred to the protection of industrial relations and decently paid jobs, as well as to the protection of the environment and the development of local production.
The meeting was held within the framework of the consultations of SYRIZA with social organizations and professional associations, in view of the Thessaloniki International Fair (TIF).
Tsipras noted that, in accordance with SYRIZA's strategic plan for tourism, the priority is the reorientation of the tourism model and the reconstruction of the tourism product, with the promotion of special – alternative forms of tourism and support for innovative actions. The torso of tourism, according the SYRIZA, will be the small and medium enterprise, with enhanced services at affordable prices for the average citizen and the average family and respect for the natural, historical and cultural environment.
On the side of the President of SETE Andreas Andreadis, the expected results for this year's tourism were presented. As mentioned at the meeting, the assessment of SETE for 2014 is that arrivals will exceed 19.5 million (21.5 million Including cruises) and direct revenues will amount to 13.5 billion euros (taking into account the revenue from the cruises).
During the meeting, SETE, briefed Tsipras on the Roadmap of 2021, which aims at 24 million international arrivals and 48 billion euros in Gross National Product. Objectives which, according to  Andreadis, will rank Greece among the top ten tourist destinations in the world.
Moreover, the president of SYRIZA informed the firm positions of SETE, regarding key issues that need immediate attention and implementation to achieve the objectives, such as implementing a fair tax system, the new investment law, to provide liquidity to healthy tourism businesses, labor relations, active employment policies and vocational training policy on aviation and shipping links, the creation of a joint tourism consciousness, but also the spatial and regulatory framework that will facilitate healthy entrepreneurship.
As stated in terms of SETE, "there was understanding about the dynamics of greek tourism, open dialogue and convergence points, as well as the recording of different views". The Association's position "remains the absolute preservation of political stability, which with the support of tourism, will be able the country to evolve into a truly modern European country, a new Greece of the 21st century".