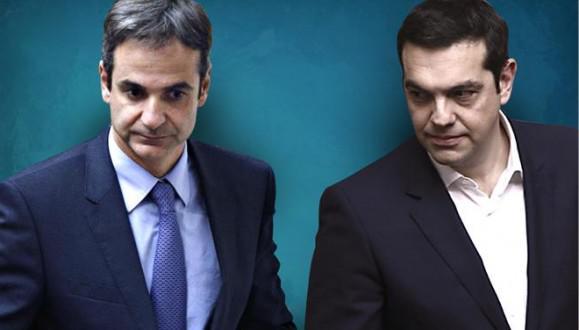 Former Greek government spokesman Dimitris Tzanakopoulos told the Athens News Agency on Monday that he was confident ruling SYRIZA could win next month's general election.
In the first half "our opponent took advantage of our mistakes […] but in the second half these won't happen [again]. Because we have a plan, a team and a person who knows how to lead in difficult circumstances", Tzanakopoulos said of Prime Minister Alexis Tsipras.
The former spokesman – who is a candidate MP in the Athens A constituency having been replaced as spokesperson by Efi Achtsioglou – said SYRIZA is fighting a "collective battle across Greece for a common cause".
The statement followed news that SYRIZA MP for Samos, Dimitris Sevastakis, will not be running for re-election on 7 July. Local reports also suggest that some prominent party members are squabbling behind the scenes over who will be included in the SYRIZA state ticket which guarantees election to parliament for a number of candidates.
Tzanakopoulos went on to highlight the differences of the policy programs SYRIZA and New Democracy plan to implement, pointing out that the government has already announced 15,000 new jobs in Education, while New Democracy plans to make one appointment to the public sector for every five departures, meaning 75,000 would have to leave in order for 15,000 teachers to be hired. "How many schools will be without teachers until then", Tzanakopoulos wondered.
Meanwhile, he spoke of "chaotic difference" on labor affairs. He argued that SYRIZA managed to create 400,000 new jobs in the past four years, when from 2010 to 2014 a total of one million jobs were lost. He went on to stress that the center-right New Democracy will reduce wages, abolish the basic principles of collective bargaining and reduce taxes on large corporations.
On behalf of New Democracy, party vice president Adonis Georgiadis, who also spoke to the Athens News Agency, expressed the view that the general election on July 7 will be a "totally open election race and tough battle".
"We are trying to persuade even the last citizen, those who voted for us and those that have not yet voted for us", Georgiadis said of the party's campaign, adding that Greeks must choose between a "dark Greece led by Alexis Tsipras" or "a bright Greece of Mitsotakis".
Asked to outline the priorities of a prospective New Democracy government, the party VP said that "the reduction on taxes, safety & security and limiting bureaucracy" will be immediately addressed./ibna