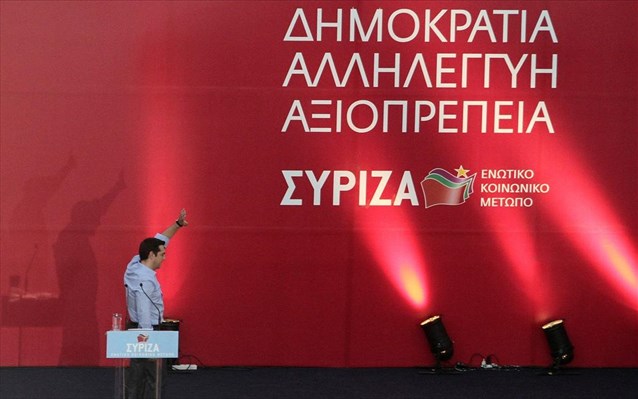 By Spiros Sideris – Athens
With 5 percentage points leads SYRIZA against the New Republic, according to a survey conducted by the company «Pulse» for the television station «Action24» and the broadcasting of «EveningReport» of George Kouvaras.
PASOK eyes the third place, the Golden Dawn shrinks and is ranked fourth, the "Independent Greeks" limited to a small percentage of 4% which, so far, allows them to hope for a close entrance in the new House, while the River ties with the Communist Party in fifth place with 6.5%.
The "Democratic Left" shrinks even more, with its entrance in the House seeming impossible, at least with these pollsters data. The party of "ANTARSYA" still takes 1% of citizens stating who took part in the survey.
The poll was conducted nationwide between  November 21-24 in sample of 1,031 people over 18 years old.
Besides the voting intention, the interest of the poll focuses on how people perceive the way with which  should conducted and concluded the negotiated with the Troika, a timely and crucial issue, but also how people weigh the potential – risk of the country remaining in the Eurozone.
It comes to show that 41% of the citizens want a hard negotiation with lenders but in concert with them while 38% wanted tough negotiation and a break with the Troika where it shows rigidity.
An important 13% however, is in favor of the immediate rupture with the troika without even negotiating. In any case, the overall picture shows that, as time passes, people retain adopting a tougher stance with creditors.
As for the winning intentions, SYRIZA's lead becomes clear. More Greek people increasingly believe as time passes that SYRIZA will be a winner in an upcoming election.
Most suitable for prime minister is still Antonis Samaras, although his difference with Tsipras Alexis has been reduced significantly compared with previous measurements.
Very close are the percentages of the current government and a possible government of SYRIZA in the assessment of individuals for which of the two governments would manage better the National Issues or Economy.
At the same time, 50% of citizens are in favor of the view to avoid premature recourse to the polls while 44% want the government resort to the people's verdict.