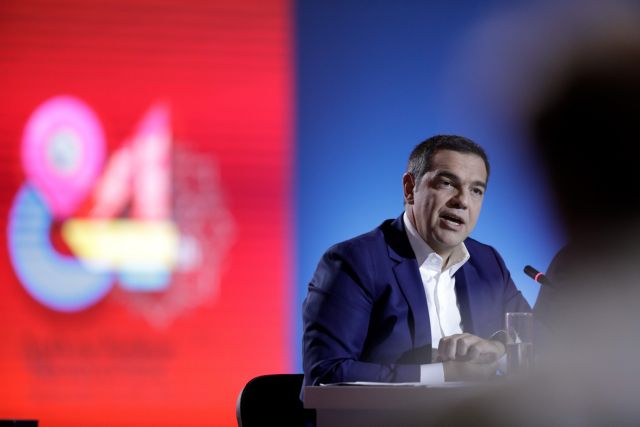 Main opposition SYRIZA party leader Alexis Tsipras delivered a customary speech and held a press conference at the 84th Thessaloniki International Fair over the weekend. The former Prime Minister said he plans to be both combative and constructive in opposition, adding that he doesn't plan to constantly call for an early election as his opponent Kyriacos Mitsotakis did when he was in opposition.
Tsipras took many questions on economic policy, while mostly focusing on a standing demand by successive Greek governments that international creditors agree to a lowering of 3.5% primary surplus targets. The SYRIZA leader said his government had made a viable proposal for the reduction of the targets, via use of an escrow account, which had been discussed in detail with the troika. Tsipras stressed that this plan, which is being derided by the Mitsotakis administration, would have led to 2 billion euros worth of relief measures.
In his criticism of the New Democracy government's economic policy, Tsipras pointed out that the middle class is not benefiting and that the tax cuts introduced are aimed at the wealthy. The former PM went on to praise his government's economic record, citing various relief measures introduced in 2018, including a reduction of the unpopular ENFIA property tax.
He also accused the center-right government of returning to the austerity policies of the past, even though the country's bailout agreement was seen out by the SYRIZA administration. Alexis Tsipras said policy should not be dictated by interest groups such as the Hellenic Federation of Enterprises, nor should labor be threatened by policies that rescind rights and lower wages.
Moreover, the main opposition leader voiced his disagreement with the provisions of a recent draft bill aimed at promoting growth and investment, citing a series of points via which "labor rights are attacked" and "non-productive sectors are subsidized".
Asked to comment on an ongoing investigation into an alleged bribery scandal involving Swiss pharmaceutical Novartis, Tsipras said it is "an international scandal with specific extensions to Greek politics". He dismissed claims that members of his government orchestrated a conspiracy to embroil political rivals in the alleged scandal, while calling on the Prime Minister to order a parliamentary probe into the affair./ibna