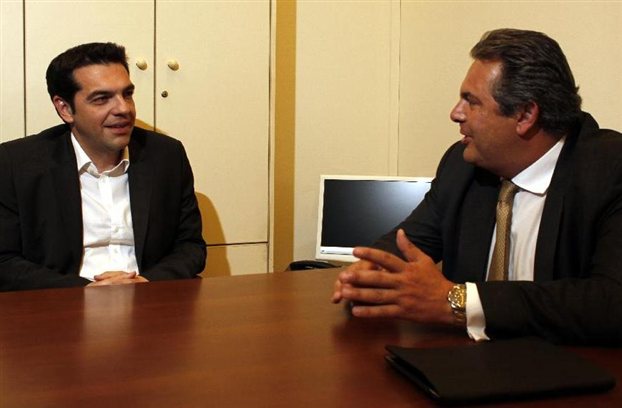 Athens, January 26, 2015/ Independent Balkan News Agency
By Spiros Sideris
"From this moment there is a government in the country. The ANEL are giving a vote of confidence to Alexis Tsipras. The Prime Minister will go to the President of the Republic and announce the government coalition", said the President of ANEL Panos Kammenos coming out of the offices of SYRIZA.
"The goal is for Greeks to move united to a new day", he said while replying to a question on how many ministries the ANEL will take, Kammenos replied that "there is agreement in principle to be announced by the prime minister".
The cabinet's composure will be closely connected with its restructuring process.
Alexis Tsipras and Panos Kammenos have agreed to the formation of a coalition government, while the president of SYRIZA has already started working on Sunday evening towards forming a broader support framework.
In light of all this, the first Greek Government around a left party is expected to form probably on Monday. Information indicates that the inauguration of Alexis Tsipras as the new prime minister will be held on Monday afternoon.