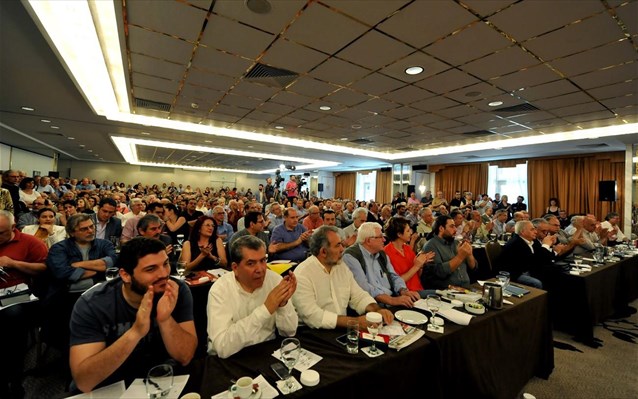 Athens, July 31, 2015/ Independent Balkan News Agency
By Zacharias Petrou
The central committee of Greece's ruling left-wing party, Syriza, held an emergency meeting on Thursday to address a growing rift within the party over whether a third international bailout should be agreed or not.
Addressing the 200 members of the central committee (the body that sets the party's policies), Prime Minister Alexis Tsipras said they had to collectively decide either to "succumb or go ahead with a compromise we were forced into."
Tsipras defended his decision to agree to a fresh bailout sponsored by the European Stability Mechanism that will see Greece secure EUR 86 billion euros in loans over the next three years.
He said without a bailout and the memorandum of understanding it carries, Greece would have had to leave the euro zone and would be "forced into devaluation and returning to the International Monetary Fund (IMF)" for support.
The Greek premier proposed an emergency Syriza party congress is held in September to discuss the bailout and Syriza's strategy over its implementation. However, Tsipras said, since many in the party demand a decision over the bailout deal immediately, he is open to a snap party referendum to be held on Sunday if the anti-bailout group doesn't back down. Almost 30.000 Syriza party members will be eligible to vote in the referendum.
"I respect those who say we should decide our strategy now. I know there are those who say we should immediately cancel the agreement and that there are alternatives available. I think its natural we should discuss these ideas" Tsipras said.
The PM's initial intention was to complete a bailout agreement as soon as possible (ideally before August 20), before dealing with Syriza's internal rebels at a party congress in September, which could lead to the party splitting, with national elections following soon afterward.
The members of the hardline Left Platform faction – led by former Energy minister Panagiotis Lafazanis – wants to block the government from agreeing a third bailout now. Many Left Platform members have openly backed a return to the drachma.
"We must admit that Syriza never became a unified party," Alexis Tsipras said during a radio interview on Wednesday. "The effort to move from a party of many factions to a unified one didn't bring the desired results."
In the early hours of Friday, the central committee adopted Alexis Tsipras's proposal for an extraordinary congress in September. The intra-party referendum was not even put to a vote as overwhelming support for Tsipras was clear. The decision paves the way for the government to complete ongoing bailout talks with creditors in August.