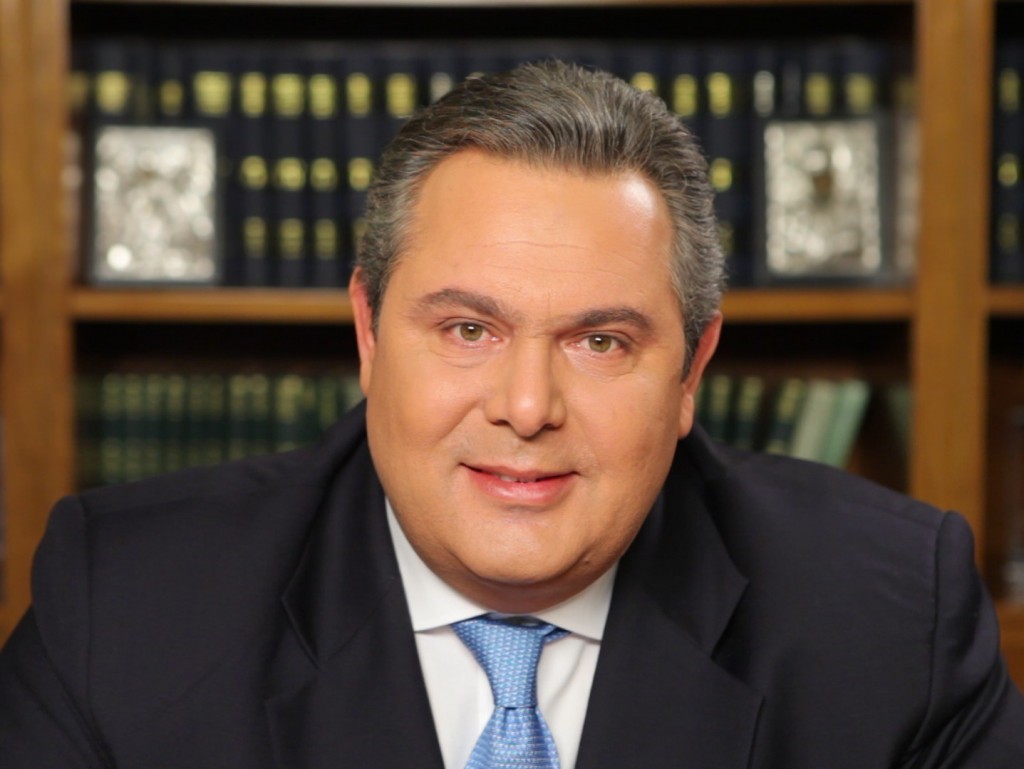 Greek Defense Minister Panos Kammenos made a surprise proposal this week to replace the fYROMacedonian name-change agreement which has deepened a rift in the coalition government as the minister was seen to ignore official foreign policy.
During a meeting with US officials in Washington, Kammenos predicted that fYROMacedonia will fail to push through the deal with Greece, while suggesting a plan which, as he said, will serve the same geostrategic objectives as the name-change deal.
The Defense Minister proposed a new alliance in the Balkans based on bilateral agreements in the field defense and security. The statement, along with proposing to the U.S. that it increase the number of military bases it has in Greece, initially led to an "unofficial" reaction by the government which insisted that it is committed to implementing the name-change deal struck with Skopje.
However, a rising number of SYRIZA MPs, cabinet members and officials later spoke out against the proposals voiced by the Defense Minister as an alternative to the fYROMacedonia name-change deal.
Alternate Foreign Minister Giorgos Katrougalos said the idea of an "alternative plan" had never been broached at cabinet meetings. He added that the government has a majority of support in Parliament not only for the name deal but for a potential vote of confidence.
Digital Policy Minister Nikos Pappas said cabinet ministers ought to be "careful" when making statements, while the spokesperson for the SYRIZA parliamentary group, Nikos Xydakis, said Kammenos is harming the government and the national effort to diplomatically upgrade the country. Similarly, SYRIZA MP Giorgos Kyritsis said Kammenos is "a problem", adding that he is not authorized to comment on foreign policy issues. 
Parliament president Nikos Voutsis said he was surprised at the Defense Minister's proposals, adding that he was having trouble comprehending them. Regarding the government foreign policy, Voutsis said: "We are working to promote cooperation in the Balkans, against […] nationalistic dogmas and stereotypes".
Following the fresh turmoil within the coalition, several analysts pointed to what they saw as an indication that a snap general election may be in the offing. Prime Minister Alexis Tsipras and Panos Kammenos had reached an agreement not to rock the coalition before March 2019, when the fYROMacedonia name-change agreement is considered likely to come to Greek parliament for ratification.
However, sources within the ruling SYRIZA party believe Kammenos to be unpredictable. Despite criticism from senior government officials, many consider it certain that Kammenos will continue to oppose the name-change agreement, especially since he sees the issue as pivotal for his Independent Greeks party.  
The main opposition New Democracy party took the opportunity to flag the disagreements within the government caused by the name dispute with neighbouring fYROMacedonia The center-right party called on the government to clarify its position on the name deal and criticized the defense minister's stance in his talks with U.S. officials…. / IBNA
Main Photo (File): Panos Kammenos