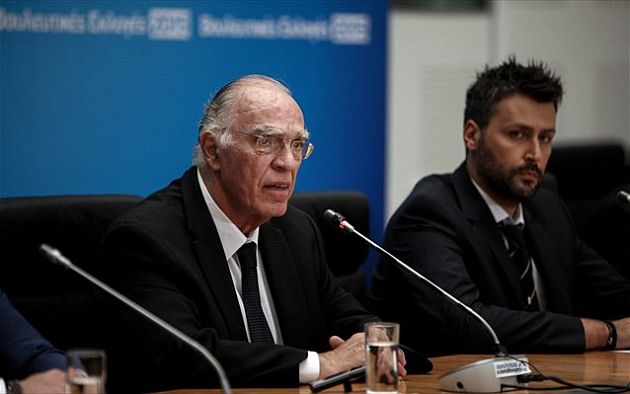 Athens, December 29, 2015/ Independent Balkan News Agency
By Zacharias Petrou
Syriza seems to continue politically "flirting" with minor opposition party "Enosi Kentroon" (Union of Centrists) as a result of statements made by government ministers.
In recent weeks, reports suggest government officials have been in talks with various opposition party MPs in order to secure their support in parliament when crucial legislation comes to the House in the New Year.
Prime Minister Alexis Tsipras told a recent cabinet meeting that an all party government was out of the question. However, he has not publicly ruled out cooperating in government with the centrists led by Vasilis Leventis.
In fact Leventis has made proposals to Tsipras on the basis of which his party could offer support to the government in certain policy areas.
With the government planning to introduce a bill by mid January reforming social security that will possible result in pension cuts, Syriza has begun to make contingency plans in case there are defections from the governing coalition.
State Minister Alekos Flambouraris said in a television interview that he is certain the social security reform plan will be approved by all 153 MPs of the government coalition and noted that the solution for the ailing social security system is increasing revenues, not making cuts.
Flambouraris said the government "seeks dialogue as it does with society and is not trying to win any opposition MPs".
He did, however, hail Vasilis Leventis' stance through the years, saying that he "has been defending the interests of the economically weak for 30-35 years and he finally made it in parliament".
On Monday, Alternate Foreign Minister Dimitris Mardas also praised the centrists. Speaking on SKAI TV, Mardas stressed that "Enosi Kentroon is a party that has nothing to do with the past. It is a party that has some interesting views."
He pointed out, however, that the government and the prime minister himself will decide if cooperation with Enosi Kentroon, led by Vasilis Leventis, is feasible.
Enosi Kentroon was quick to reply, saying that by courting opposition MPs Syriza appears to be politically weak ahead of crucial votes in parliament. The party has consisently said it would only be interested in joining a coalition with Syriza if main opposition New Democracy and the other pro-European parties also took part.
Analysts point out that Syriza is trying to build a rapport with Enosi Kentroon in order to avoid political instability in future, especially after coalition partner ANEL opposed the bill establishing civil partnerships for same sex couples that Syriza brought to parliament recently.