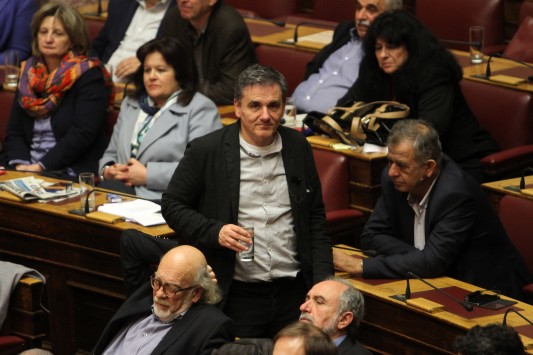 Athens, June 27, 2016/Independent Balkan News Agency
By Zacharias Petrou
The leadership of Syriza and the Prime Minister, Alexis Tsipras, himself came under heavy criticism by a large group of party members – the so called "Group of 53" – at the central committee meeting held over the weekend.
The party convention that will be held in October is expected to be a heated and tense affair as more and more party members react to the pro-austerity turn taken by the government.
The intra-party opposition led by the Group of 53 – a prominent member of which is Finance Minister Euclid Tsakalotos – has reportedly alarmed the Prime Minister and his closest aides especially since it is putting the brakes on their plans to shift Syriza towards the center-left and social democracy.
The Group of 53 tabled a paper to the central committee outlining their views which was critical of the party leadership; more or less saying that it is moving the party in the wrong direction. Opposition was also expressed to the notion of welcoming former members of socialist PASOK to the party.
The Syriza central committee approved with a resounding majority on Sunday a party decision which will be made public in the coming days concerning the party's strategy for the next three years, the proposal for an electoral system of proportional representation, constitutional revision and other measures aimed at modernizing the state.
However, the committee also approved an amendment tabled by the Group of 53 which says that the government's program should not be confined to the agreement signed with the country's creditors last summer.
The committee however removed a sentence that described the deal as a result "of a ruthless blackmail and a coup".
According to analysts, the Prime Minister's decision to change the electoral law and begin talks over sweeping constitutional reform is part of his attempt to defend his legacy as a radical left-wing leader as well as please the party's rank and file that were disillusioned with the third bailout deal the coalition government signed up to.
The proposal for a new electoral system will be tabled in Parliament by the end of the week, government spokeswoman Olga Gerovasili said Monday adding that a vote on the bill should be held by July 10.