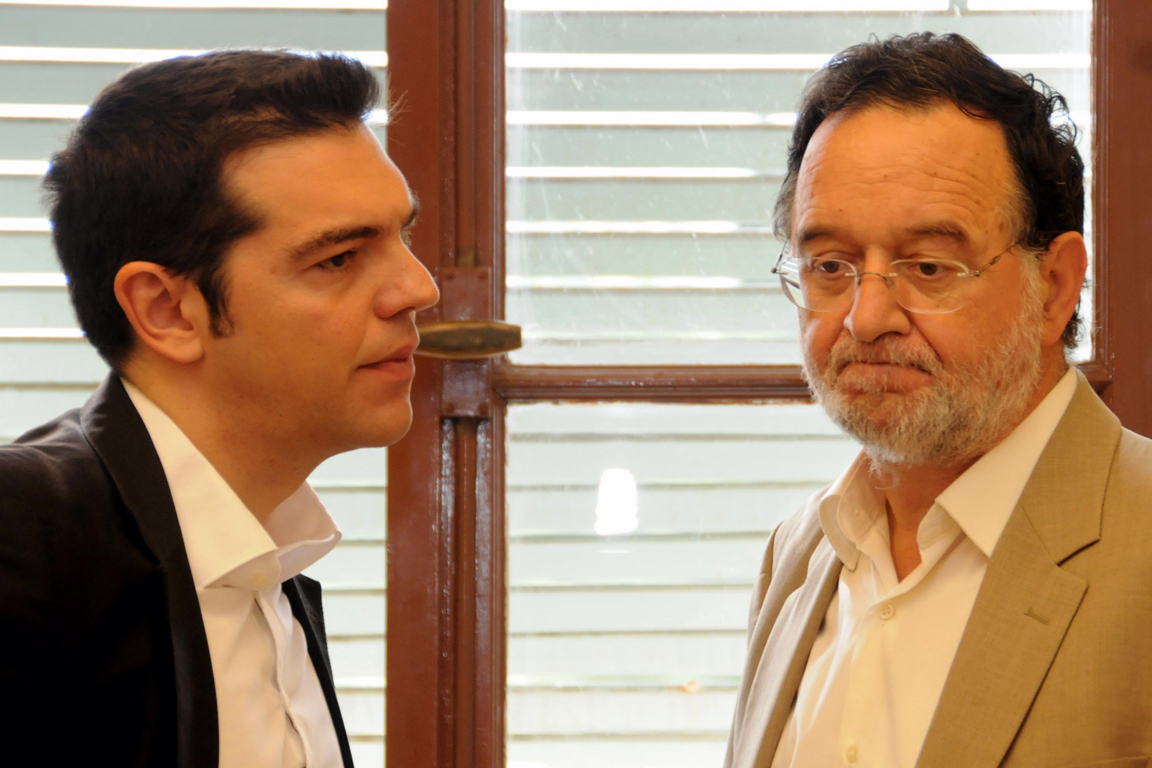 By Lefteris Yallouros – Athens
A stormy session of the SYRIZA party's political secretariat saw the main opposition party leader Alexis Tsipras questioned by the leader of the party's so called "Left Platform", Panagiotis Lafazanis.
Alexis Tsipras was reportedly furious with Lafazanis who frequently talks of the need for the formation of a "plan B" for Greece that may even involve the country abandoning the Euro.
Such talk just over a month before crucial European Parliament and local elections in Greece is thought to be damaging the Coalition of the Radical  Left's (SYRIZA) popularity amongst voters.
Fresh tension emerged this week as Tsipras and Lafazanis disagreed on party candidates in the upcoming elections. Alexis Tsipras nominated former PASOK MEP Kriton Arsenis. Lafazanis and other members of the "Left Platform" (representing around 30% of SYRIZA members) opposed the nomination due to Mr. Arsenis' association with former Prime Minister and PASOK leader George Papandreou.
The nomination eventually went though after being put to a vote. However, the latest skirmish has raised questions over the SYRIZA leader's ability to control out of line party members, especially high profile ones such as Mr. Lafazanis.
In a speech in Halkida on Wednesday, Tsipras sought to play down differences of opinion, claiming that SYRIZA MPs "discuss democratically and openly." He added that Antonis Samaras "was a comic prime minister exercising a tragic policy."
Lafazanis too dismissed talk of a rift between himself and Alexis Tsipras on Thursday, claiming in a written statement that a "systemic nexus" sees SYRIZA's unity and democratic procedures as an obstacle to the continuation of the government's barbaric policies against the Greek people.
Despite claims to the contrary, SYRIZA appears torn all too often on key policy issues keeping conservative New Democracy close in latest opinion polls and its own popularity much lower that it would have liked considering the tough austerity imposed by the government in the last two years.
Furthermore, good news coming out of the economy appears to be harming the main opposition party's election drive. Leftist MPs have already found themselves arguing that the government is wrong to return to bond markets because the borrowing cost is much higher than the bailout packages. Yet SYRIZA spent the last few years opposing the bailout and arguing that Germany and others profited from it.
In an attempt to strike an optimistic note, SYRIZA launched its first TV advert for the European elections, reflecting the party's view of the European and local elections as a referendum of sorts on austerity and the government's performance. Health cuts, businesses going bust, youth emigration and the closing of the former national broadcaster ERT are among the issues raised in the spot. It remains to be seen if it will be enough to see SYRIZA strike a crucial win over Samaras's conservatives in May.