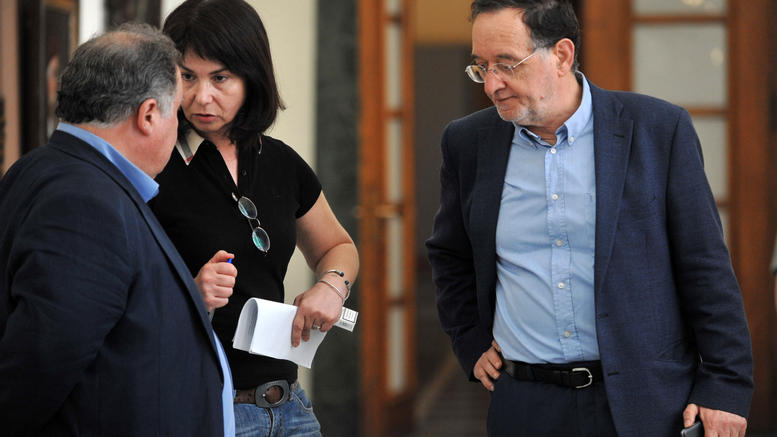 Athens, July 14, 2015/ Independent Balkan News Agency
By Spiros Sideris
More than 20 MPs of SYRIZA who vote "No", "present" or abstained on Friday, held a meeting in Parliament and have announced that they will not vote the measures the government will bring in the coming hours. The meeting of parliamentarians was held in the office of Deputy House Speaker Despina Charalambidou. The vice president, despite voting positively to the proposal for authorization on Friday, is in the team of Panagiotis Lafazanis, and immediately after co-signed a text which clarifies that she was not bound by the 'Yes' for the subsequent voting for the executive laws.
Members of SYRIZA kept distances from the central line of the party, are estimated to at least 32.
The meeting today was attended mainly by the MPs and members of the Left Platform.
However, the climate within the party is really bad and should exclude any possibility that the MPs who in one way or another took distances on Friday from the party's leadership, to vote the new measures.
A new leadership in SYRIZA or withdrawal and creation of a new party wants the "Communist Tendency" within SYRIZA.
Reflecting the divisive climate inside SYRIZA after the agreement reached at the Summit of the Eurozone, the Communist Tendency accuses prime minister Alexis Tsipras for treason.
After calling the government "pro-memorandum", and speaks of "parliamentary dictatorship", KOTA (Communist Tendency) invites the MPs of SYRIZA to vote against the measures and calls on the left wing of Syriza proceed with the establishment of a new party "if the battle is lost against the perjurers leaders".
Knife… to the heart the agreement of the Prime Minister for Panagiotis Lafazanis, let alone the approval to privatize the ITSO or leave from the control of PPC.
As long as, as an MP he disagreed and voted "present" on the authorization, it is almost certain that he will not be able to serve the requirements of lenders as a minister. Lafazanis is in consultation with his colleagues on his next moves, with the possible scenario to wait for the initiatives of Alexis Tsipras.
The diversification of the Left Platform makes it a likely scenario the Prime Minister will remove the four ministers, namely Panagiotis Lafazanis, Dimitris Stratoulis, Kostas Ysihos and Nikos Chountis, while it seems unlikey that they will vote the memorandum bills.
Tsipras has the ability to delete them from the Parliamentary Group, possibly demand their seats, but cannot delete them from the Central Committee. A "peaceful" divorce with SYRIZA is also not unlikely.
"This new onerous memorandum, which re-establishes the troikan tutelage and extends the social enslavement and keeps the country in a colonial status under German tutelage EU!", writes today the site iskra.gr, which belongs to Panagiotis Lafazanis.