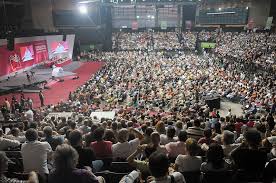 Athens, August 3, 2016/Independent Balkan News Agency
By Spiros Sideris
The 2nd Conference of SYRIZA will take place in October, starting on the 13th. The Congress will end on October 16, according to the announcement. The Congress will be held in the Tae Kwon Do stadium, in Palaio Faliro.
The Conference will be held at a critical juncture in the country's exit path from the memoranda and decisions are expected to clarify, inter alia, the intraparty scenery, where, as is widely known, there are different approaches to a number of important issues related both to the substance of government policy and the ideological position of the party in the new conditions. However, Koumoundourou leverages the pre-session process to make "opening" in society, and through www.syriza.gr/synedrio website gives citizens the opportunity to participate in the consultation on the positions of SYRIZA and submit their proposals.
With the main motto "We strengthen together", SYRIZA declares that "it wants to hear the voice of the voiceless. To listen to the citizens, to put at the center their concerns, thoughts, the demands of workers and unemployed, pensioners, young people who migrated forcibly or were stayed here to fight". Meanwhile, Koumoundourou notes that "the 2nd Congress of SYRIZA will not be a closed process, where some experts, professionals, technocrats, party officials will discuss and take decisions in absentia of society, nor a communicating fiesta. We want it to be an open process of dialogue and Drafting with active citizens. Because this is the only way to build the body of a modern, radical, European Left".
As outlined in the announcement, "we do not do an opinion poll, we do not seek for the most popular answer, but seek positions, suggestions, ideas, opinions and anxieties. SYRIZA has crossed arms with society so that the place comes out of the crisis and monitoring, but also to build a strong democracy with rights for all".