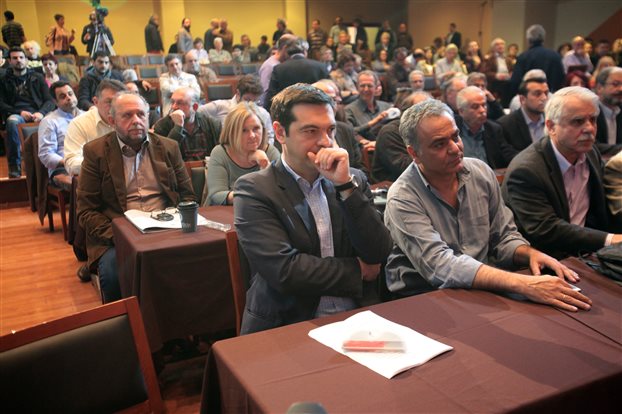 Athens, March 30, 2015/ Independent Balkan News Agency
By Spiros Sideris
The "red lines" that have been set by the government up to now in the negotiations with respect to the non-implementation of recessionary measures, confirmed the Political Secretariat of SYRIZA, which convened under Alexis Tsipras Sunday afternoon.
The Political Secretariat also approved the government's tactics in the discussions with partners and highlights that it is not going to sign wage and pension cuts, but also to take measures that will contribute to the "dissolution of the labour market".
Specifically, in his contribution Tsipras reportedly "focused on the critical negotiations with the institutions and initiatives of the Greek government". He also, "thoroughly presented the list of reforms put forward by the Greek government".
According to government estimates the proposed measures have a positive financial impact, without including financial measures, while they are part of a design that carries the weight from the weaker and middle layers to high incomes.
As for the decisions of the Political Secretariat, the negotiating tactics of the government were approved and government commitments were confirmed against the Greek people, as recorded in its program. So the Political Secretariat of SYRIZA "reaffirmed the 'red lines' of the government in the ongoing negotiations".
In fact, there was specific reference to the non-implementation of recessionary measures, reduction of pensions and salaries or further dissolution of the labour market.
Lafazanis: We should clash with the German Europe
In a heated interview, the Minister of Productive Reconstruction, Environment and Energy, Panagiotis Lafazanis, urged the government to follow the path of rupture with the partners, speaking of "ruthless imperialists", who treat the country as if it is their distant colony, while he emphatically states the need for Greece to detach itself from the "incumbent Europe" following alternative roads.
Samaras: The new agreement will bring new measures and new Memorandum
Main opposition leader Antonis Samaras unleashed fierce criticism to the government, stating that it concerns itself with communication games, while the economy is sinking.
"The economy is sinking in suffocation and uncertainty and the government concerns itself with communication tricks that are being contradicted one after the other… The government has signed an extension of the Memorandum but refuses to admit it. And as such it cannot implement any policy", says the President of New Democracy to the newspaper "To Vima".