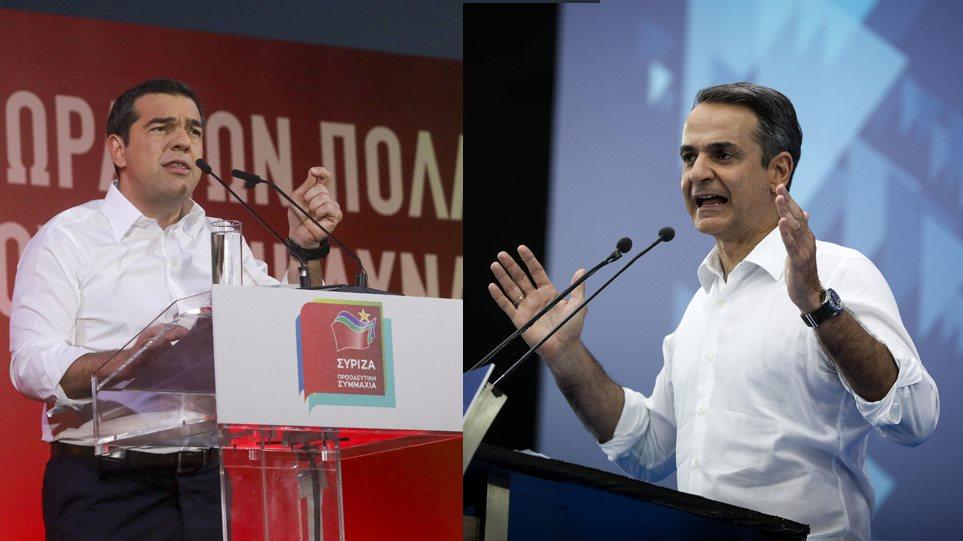 The latest polls show a narrowing of the gap between SYRIZA and New Democracy. In particular, the survey by Kapa Research conducted on behalf of the newspaper "Ethnos" identifies the difference to 3.4%, predicting an election "thriller" next Sunday.
More specifically, SYRIZA accounted for 24.4% and New Democracy 27.8%, followed by Golden Dawn (6.9%), while KINAL is ranked fourth with 6.3%, and KKE fifth with 5.3%. From the rates it seems that there will be a crucial battle for third place between Golden Dawn, KINAL and KKE.
The poll was conducted on the weekend of May 21-22, the last week of the election period. It is noted that on the first day of the poll the difference between SYRIZA and ND was recorded at 4 percentage points, while on the second day the gap "closed" to 3.4 points.
As political analysts explain, if this SYRIZA's upward trend continues, if the difference continues to decline for the next 24 hours, then the European elections may eventually turn into a marginal confrontation.
Dynamic for victory
The government and SYRIZA speak of a dynamic for victory and the overthrow of the "Mitsotakis-Media political fraud of the polls". As they say, in the last days that the dilemmas of the ballot become clearer, the people support SYRIZA, which is also seen in the big open rallies.
It is this fact that has led the leader of ND as well as the members of the conservative party to lower the bar of expectations. It is indicative that until some weeks ago the polls presented a gap close to 10%. Based on SYRIZA's supporters rally, the same government sources explain why polling firms close the gap between the two parties.
The last moves of the "contenders" and the battle for the new voters
In any case, the two main opponents make their last moves to strengthen their electoral influence, with K. Mitsotakis speaking today in Thessaloniki, while tomorrow in Athens Alexis Tsipras will address the last big rally of his party.
Tsipras and Mitsotakis are particularly targeting at the young voters, aged 17-21, who are eligible to vote for the first time. According to the official figures of the Interior Minister, the number of new voters is 537,000.
"A vote of confidence to the way ahead and the positive measures or a vote for their abolition and a return to the austerity and IMF policies", is the central stake put to the voters by SYRIZA, underlining that K. Mitsotakis serves the interests of the elites and not of the many. For its part, ND speaks of a "Greece for All", describing Tsipras' message as divisive, reiterating the need for "political change"./ibna