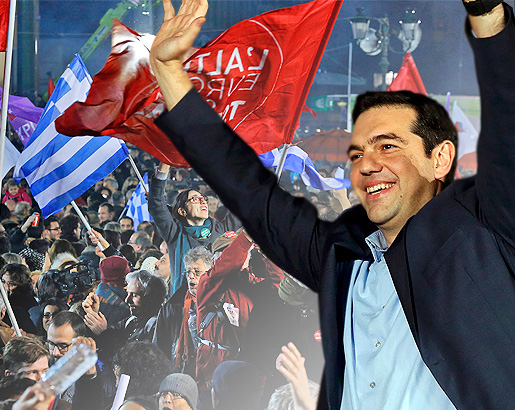 Athens, January 26, 2015/ Independent Balkan News Agency
By Lefteris Yallouros
Greece's far-left SYRIZA party claimed a historic victory in Sunday's general election, winning by a landslide over the conservative New Democracy party as voters opted for a tougher negotiation with European partners over Greece's debt and economic future.
Charismatic SYRIZA leader Alexis Tsipras gave a triumphant speech before a large crowd in the center of Athens immediately after receiving a call from outgoing prime minister Antonis Samaras who congratulated him for winning the election. The SYRIZA leader will be the country's first leftist prime minister.
Tsipras said the left's historic win meant the troika will be a thing of the past, adding that SYRIZA's victory was "a victory for all peoples of Europe fighting austerity." "Greece is turning a page, advancing with firm steps in a Europe which is changing. The mandate of the Greek people today cancels, in an indisputable way, the memorandums," a jubilant Tsipras said.
"Today the Greece of the oligarchs, of the elite, of the cover-ups was defeated. Victory was for the Greece that strives, that hopes," Tsipras also said while adding that the new Greek government has a mandate to make sweeping reforms and beat corruption for good. "We have finally put behind us the vicious cycle of fear and austerity," he said.
Earlier in the evening, outgoing PM Antonis Samaras conceded defeat to SYRIZA but said he was proud of ND's efforts and achievements. "The Greek people spoke and we all respect their decision," he said. He added that his conscience was at ease. "I took over a country on the edge of catastrophe. I had burning coal in my hands," he said. "We reduced the deficits. We created a culture of cooperation and coalitions that were unheard of in Greece. There were mistakes but we averted the very worst." "I hope the next government will maintain what we have achieved," he said.
Majority
SYRIZA's victory however may not be enough to give the party an outright majority in parliament.
With 90 percent of the votes counted at around midnight, SYRIZA held 36.3 percent and New Democracy 27.8. This would give SYRIZA 149 seats in Parliament, two short of a majority. The two parties were followed by Golden Dawn on 6.3 percent, Potami on 6 and the Communist Party (KKE) on 5.5. PASOK and Independent Greeks were also certain to enter Parliament, both with a 4.7 percent share of the vote.
George Papandreou's Movement of Democratic Socialists (Kinima) missed out on a place in Parliament as it was under the 3 percent threshold for gaining seats, with 2.4 percent.
Meetings
Alexis Tsipras will hold meetings with Independent Greeks leader Panos Kammenos and Potami chief Stavros Theodorakis in order to explore the possibility of the two parties giving SYRIZA a vote of confidence in order for Tsipras to form a government or even forming a coalition government with either one.