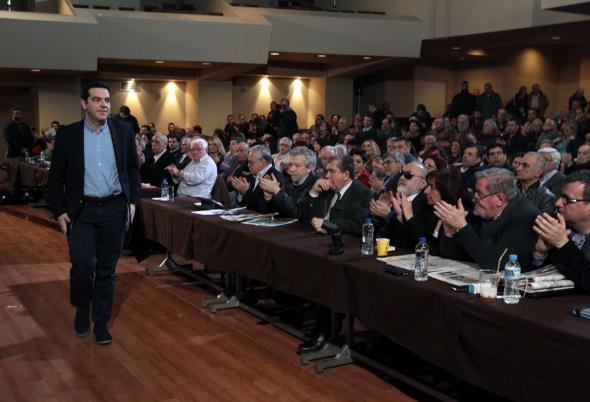 Athens, May 25, 2015/ Independent Balkan News Agency
By Zacharias Petrou
Speaking to the Syriza central committee on Saturday, Greek Prime Minister Alexis Tsipras said his government will sign a "viable agreement" with its creditors but not on "humiliating terms."
"We have made concessions but we also have red lines," Tsipras added.
The Prime Minister said a deal with creditors is close as talks have entered "the final stretch". However, what that agreement will entail remains very much a mystery. Tsipras said called on lenders to make "necessary concessions" and ruled out reform of labor relations of VAT.
A political decision by Syriza's central committee which was voted on Sunday said "the government will not sign a memorandum agreement" while noting that in the past four months the government has been rejecting "insolent ultimatums".
However, as the draft stresses, the government aims to reach a mutually beneficial agreement and has been doing everything in its power to find common ground.
Radical 'Left Platform' of the Syriza party submitted a different proposal according to which "the government should not pay the next IMF installment if the 'institutions' keep with the 'same blackmail policy'". It was voted by just 35%.
A deal with creditors must be found sooner rather than later if Greece is to avoid default.
Greece cannot make debt repayments to the International Monetary Fund (IMF) next month unless it achieves a deal.
"The four installments for the IMF in June are 1.6 billion euros. This money will not be given and is not there to be given," Interior Minister Nikos Voutsis told Greek Mega TV's weekend show.
Asked about his concern over a credit event if Athens misses a payment, he said: "We are not seeking this, we don't want it, it is not our strategy. Things have matured for a deal of logic."
Meawhile, the country's Finance Minister Yanis Varoufakis appears confident that a solution will be found soon. Greece has made "enormous strides" at reaching a deal with its international lenders to avert bankruptcy, Varoufakis said on Sunday.
"It is now up to the institutions to do their bit. We have met them three quarters of the way, they need to meet us one quarter of the way," he told the BBC.
Greeks remain supportive of the Syriza government's tough negotiating style, according to a new poll (by Public Issue) published Sunday, but hope for a deal with creditors that will keep the country in the euro.
A total of 54 percent back the government's handling of the negotiations while 59 percent believe Athens must not give in to demands by its creditors. A total of 89 percent are against pension cuts and 81 percent are against mass lay-offs.