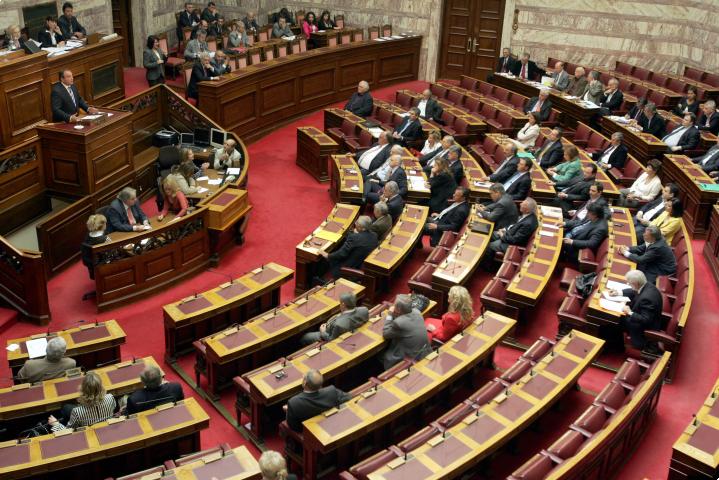 Review Hari Stefanatos
The SYRIZA censure motion against the Finance minister, Giannis Stournaras, was rejected by the Parliament speaker, Vangelis Meimarakis, on Sunday. The main opposition then proceeded in placing a new censure motion against Meimarakis before walking out of Parliament.
The censure motion came just hours before the voting for the new multi-bill of reforms that is a prerequisite for the release of the next installment of the rescue loans. The ground on which the censure motion was rejected was that it violated Constitution, since it has been less than six months from when SYRIZA had brought a censure motion against the government. Meimarakis also noted that a censure motion cannot be brought against a minister for submitting a government bill, but only for a personal issue.
The government coalition is hoping to pass the multi-bill into law ahead of an informal summit of eurozone finance ministers, which is scheduled to take place in Athens on Tuesday.
As far as the bill itself, the ND preliminary speaker, Kostas Markopoulos, argued that the Greek economy is in the transition from crisis to development and that the new regulations that are being brought forward shape the "new model of economic development". He also noted that corrections have to be made to the provisions that concern the milk and the pharmacies.
His main opposition SYRIZA counterpart, Euclid Tsakalotos, argued that the new multi-bill is a new memorandum, adding that despite the government's assurances that the country is emerging from the crisis "there is not going to be a recovery. There is no plan for the economy because there is no plan for society . We are not saying that we will not have minor incidents of development or recovery in terms of GDP, but we say that this will be achieved in a profit making frame". He also addressed the Development minister, Kostis Hatzidakis, saying that "one must be smart enough to understand orthodox economics and naive enough to believe them and Mr Chatzidakis is good student".
Taking into consideration what the parliamentary preliminary speakers of all the parties have said, the parliamentary groups of New Democracy (ND) and PASOK will support the multi-bill, while the entire opposition will vote against it.
(Source Ekathimerini, Protothema)