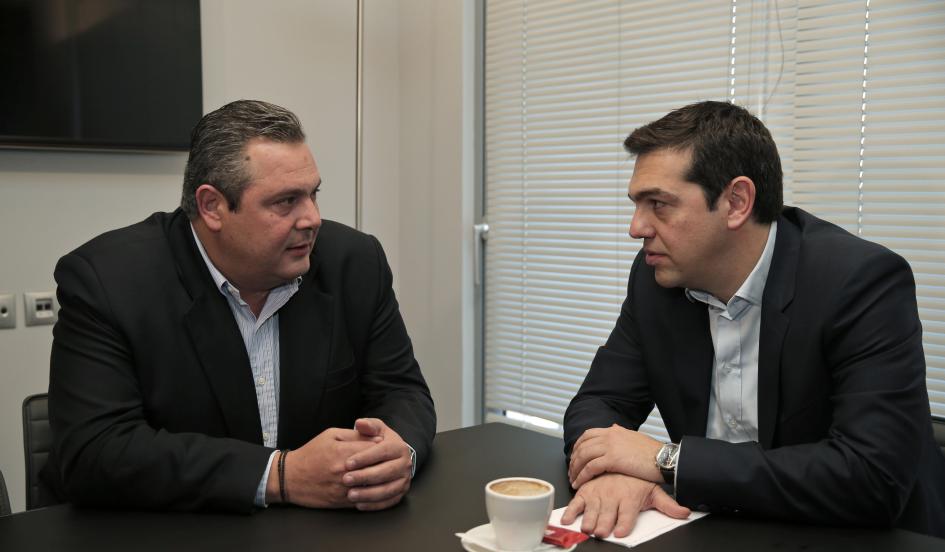 Greece's ruling coalition partners, Syriza and ANEL, appear to have struck a new balance in their cooperation following last Monday's vote in parliament when Syriza MPs fully backed ANEL leader Panos Kammenos, throwing out a New Democracy proposal to set up a committee to investigate claims by a convicted drug smuggler that the Defense Minister tried to pressure him into testifying against businessman Vangelis Marinakis.
Syriza and ANEL appear to have taken action to overcome any impending trouble for the coalition government stemming from a decision by opposition parties last week to no longer vote in favor of any legislation with which junior governing partner ANEL disagreed.
Main opposition leader Kyriakos Mitsotakis said that New Democracy MPs will vote against any bill even if they agree with it, unless the two coalition partners both agree.  The same line is followed by the Democratic Alliance. The move could potentially lead to government legislation being rejected; however, it appears that Syriza and ANEL are determined not to allow this to occur.
Already, ANEL have reversed decisions to reject government legislation they previously disagreed with, such as an amendment paving the way for the recognition of the Turkish Union of Xanthi and legislation on gender change – according to which an individual can change the sex on their birth certificate, based on how they feel.
The U-turn came after the Prime Minister appeared in parliament on Monday to offer his full backing to Kammenos who faced accusations regarding his potential meddling in a serious drug smuggling case, and press reports revealing he gambled at a casino and spent vast amounts of money on luxury accommodation and shopping sprees during a recent visit to London. Defense Minister Kammenos flatly rejected the accusations while Syriza and ANEL MPs voted together to throw out the request for a probe into the ANEL leader's actions.
As a result of the understanding Syriza and ANEL appear to have reached, media reports suggest that the government will be free to push its left-wing agenda, in exchange for the solidarity shown to Kammenos by the Syriza parliamentary group./ΙΒΝΑ