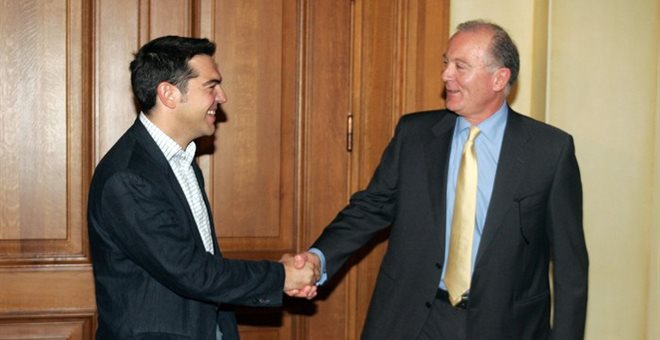 Athens, December 17, 2014/ Independent Balkan News Agency
By Spiros Sideris
Extraordinary meeting with former governor of the Bank of Greece, Giorgos Provopoulos, had on Tuesday afternoon in the House the president of SYRIZA Alexis Tsipras.
According to sources, the meeting was requested by the president of SYRIZA himself and the response from the predecessor of current governor of the Bank of Greece, Giannis Stournaras, was immediate. As sources of SYRIZA disclosure, the subject of discussion was the experience of 2012, in terms of capital and deposit outflows, the state of the banking system today, and whether it is possible and under what conditions can occur a "credit event", due to political turmoil.
After the meeting, sources close to SYRIZA rushed to praise the former Governor of the Bank of Greece for the way he had handled (confirmed meantime) the liquidity crisis that threatened the Greek economy, by comparing the current stance of Stournaras, who from now on is persona non grata for SYRIZA.
Party sources from Koumoundouros state that "the experience of Mr. Provopoulos in addressing objective risks or artificial difficulties from the transference of funds out of the financial system, are particularly useful".
The same sources have characterized the talk between Tsipras and Provopoulos "substantial and constructive" and noted in this respect: "The administration at the time, in contrast to the attitude of the current one, which acts irresponsibly causing a liquidity crisis, had taken great care to maintained until the end a climate of stability and complacency about the stability of Greek banks. In contrast, the current governor, in an unprecedented move for his institutional role, saw it yesterday with his statements to reproduce an irresponsible climate of alarmism, with unprecedented political expediencies".
In their frontal attack on Stournaras, the same party sources attributed the initiative of the current governor of the Bank of Greece "either (at his intention) to requite to the Prime Minister the appointment to the post of governor, a few months ago, despite the strong objections and reservations of SYRIZA, which were unfortunately confirmed, or because deep down he wants a political role and not that of the Governor of the Bank of Greece".
Furthermore, SYRIZA stressed that "whatever the cause of this irresponsible attitude, the opposition is determined not to allow the creation of a climate of instability and uncertainty, and will work in every way in this direction".