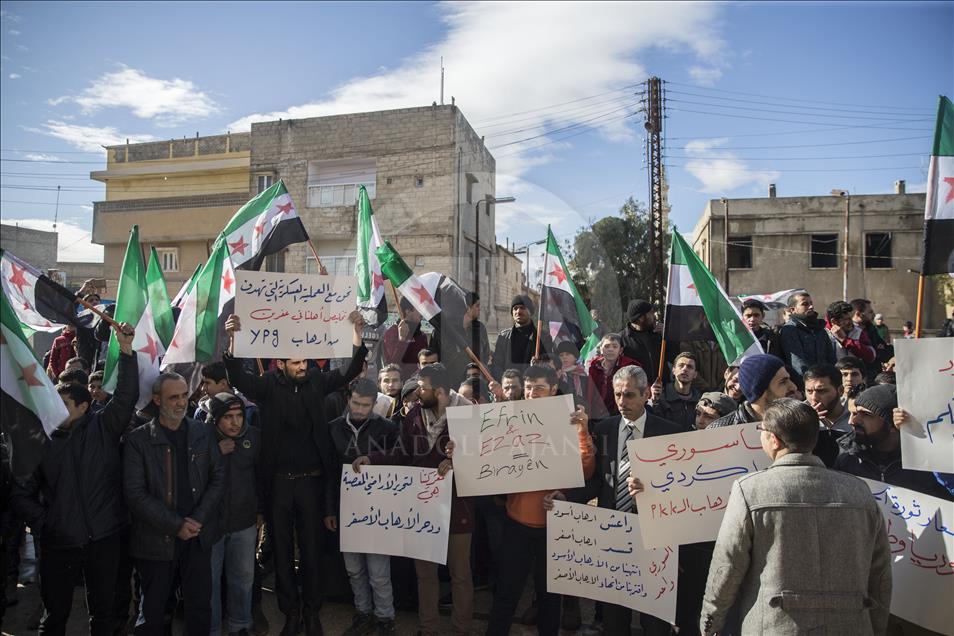 The district of Azaz is only 20km away from Syrian Afrin, also located in Syria, but its people are urging Turkey to give them a hand, as soon as possible, because they find PYD/PKK presence in Afrin terrorising.
On Friday, residents demonstrated against PYD/PKK and through a petition were asking for Turkish and Free Syrian Army's (FSA) intervention "with a view to clearing the region of PYD/PKK terrorist elements", Anadolu reports.
Among others, the collectively endorsed (by demonstrators) petition read: "The Turkish army and the FSA must act immediately (…) the PYD/PKK has forced our people to emigrate, betrayed the Kurdish people and murdered Kurdish activists (…) As long as this gang (PYD/PKK) remains in Afrin, none of us will be safe".
Those who took to the streets accused the PYD/PKK members of "committing rights abuses in the Syrian cities of Raqqah and Manbij"…/IBNA
Photo: Demonstrators in Syrian Azaz, against PYD/PKK, urging Turkey & the FSA to take action and clean Afrin, January 19, Emin Sansar / AA